Setback rounded English arms on the angled back give this amazing sectional a relaxed feel. Comfort abounds in this perfectly scaled and handcrafted sectional. A solid wood base anchors ample comfort and easy-to-love arms, making it well suited to both casual and formal spaces. All are Sectionals are made from Kiln-dried hardwood solid frame which are double doweled to give it the prefect strength to last years. For Seats and Cushions choose between Poly Fiber or Luxurious Down feather select from our range of exclusive natural fabrics. All our sectionals are handcrafted by the sofa artisans, some of them are from the fourth generation of Sofa making craftsmen. These sofas are crafted using the traditional 8-way hand-tied spring suspension system which is almost getting extinct in the modern day furniture industry.
Our Sectionals are composed using various combinations from these parts: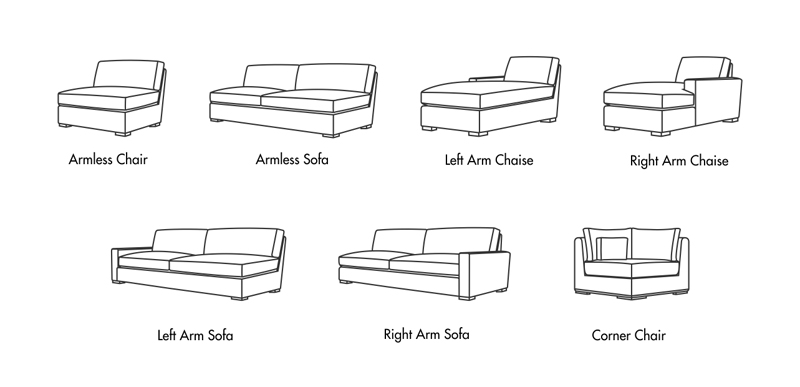 There are 3 Ways you can Order Sofas at Gulmohar Lane:
1. CHOOSE FROM OUR 7 PRE-BUILT CONFIGURATIONS:
2. CHOOSE FROM THE ABOVE COMBOS AND ORDER ADDITIONAL SEPARATES FROM BUILD YOUR OWN SECTIONAL PAGE
3. BUILD YOUR OWN SECTIONAL
In this section we provide you with the option of customizing the Sectional so that you can build your own sofa using different parts. depending upon your space and requirement.

HOW TO BUILD YOUR OWN SECTIONAL?
STEP 1:
Build your own sofa using these parts based on your space and requirements. Choose from these Shapes:
Left Arm 2 Seater Sofa
Right Arm 2 Seater Sofa
Left Arm 3 Seater Sofa
Right Arm 3 Seater Sofa
Left Arm 4 Seater Sofa
Right Arm 4 Seater Sofa
Corner Sofa
Single Seater Armless Sofa
2 Seater Armless Sofa
3 Seater Armless Sofa
Left Arm Chaise
Right Arm Chaise
STEP 2:
Choose the fabric from the second menu. Remember to choose the same fabric for all parts.
STEP 3:
Choose the fill from the third menu below. Remember to choose the same fill for all parts.
STEP 4:
Add the parts to the Cart individually.
STEP 5:
Review your cart and check if all the parts are ordered correctly, before placing the order.