My Woodland Whimsical Christmas Table
Posted on December 24th, 2019 03:00 PM
It's beginning to look a lot like Christmas! The temperatures are dropping, everyone's shopping, the Santa is eavesdropping and the reds are popping. And you know what makes the best time of year even better? Decking up your home and getting every inch of your house into the holiday spirit with creative and festive decorating ideas that set the mood just right.
And while at it, do not forget the most important room for Christmas Eve, the Dining Table. The dining room is a hub for family, friends, and guests during the Christmas holidays, it is a place to spend time together and enjoy one of the most memorable meals of the year. It is always delicious, so shouldn't it be pretty, too? But this time, as we were unpacking our boxes for holiday décor, we took an off-route and tried something unique. Here is what we achieved…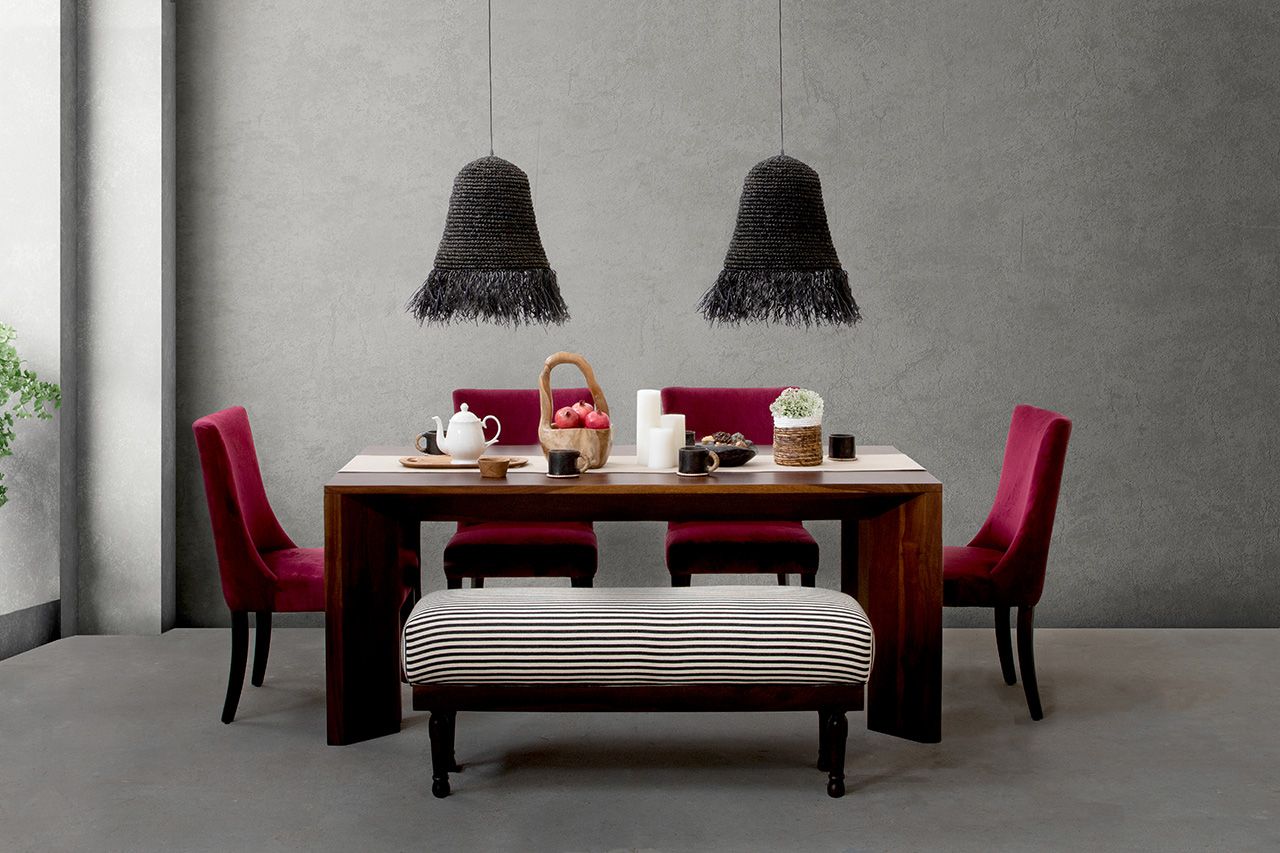 Every element of this elegant tablescape oozes Gulmohar Lane aesthetics wrapped in warmth and comfort that is welcoming and sophisticated all at once.
THE FURNITURE
We started by choosing our Bryn Dining Table in cinnamon finish owing to its sense of understated and quiet luxury and went on jazz it up a little with our reclined back and super comfortable Athens Dining Chair in Royal Samode Pomegranate velvet. Sharing the same undertones, the combination of deep red and cinnamon, wood and velvet, appealed to our celebratory senses while looking timeless. A mix and match Verne Bench was added for a modern twist and as an element of surprise synonymous with Christmas vibes. We opted for all wooden constructed furniture, as it looked rustic and classic while creating an aura that felt rooted and nostalgic.



THE LIGHTING
For lighting, we went all boho-chic and tried to add a laid-back and casual vibe to an otherwise formal room, because formal is not what Christmas is about. Handcrafted from Bamboo, we opted for our Burmese Bamboo Pendant Lamp in Charcoal finish. The unexpected addition of black and grey looked festive against the rustic wooden furniture and added diffused sparkle of much needed warm light.

THE ACCESSORIES
As soon as our predominant elements were sorted, we started with putting together little details and accessories to enliven our Christmas table. A beige coloured runner warmed thing up and when paired with a white candle arrangement it looked festive without being cheesy. On research, we found that in ancient Greece, pomegranates were consumed on holy days and hence; these red fresh beauties were a must on our Christmas menu to bring in an element of tradition. And how cute do these fruits look in our natural and rugged Scotland Wooden Basket.

We also curated a quick centerpiece for this elaborate meal table using our raw Cairo Wooden bowl in ebony and natural finish and captured its essence of less-traveled woods using some pine cones, some dried fruits, and some unshelled nuts. Our Angkor Banana Leaf Rattan Basket was added along with some winter blooms for a low-profile floral option and as a nice mix of raw and fresh elements for the guests to chat over.


THE TABLEWARE
Laid out for an extravagant hi-tea or Christmas morning breakfast, a kettle and some mugs were a must for this ensemble. But here too, we decided to ditch the obvious and opted for some cozy mugs in ebony finish and hand-woven rattan handles along with our Hata Cane Coasters in both round and square silhouettes, reflecting a rich patina against an age-old texture. Our naturally grained Tokyo Wooden Tray and a milky-white kettle finished off the look in both utility and style.


The end result? A jolly yet sophisticated tablescape that is sure to make your company and your home feel as festive as Whoville.
Get inspiration are create your Christmas Dinner Table on www.gulmoharlane.com