Expressive Floral and Cushion Arrangements for this Festive Season
Posted on October 26th, 2019 12:35 PM
As Diwali comes closer, the time is just right to introduce some healthy changes to your home décor and interiors. The right mix of colours, materials, fabrics and accessories with a touch of spark is what will make your home stand out.
While decorating a home is based on a lot of personal choices and tastes, for festivities it should take cues from the fact that your dearest ones will be invited to celebrate and enjoy in your home, hence adding a touch of good hospitality allows for a wholesome experience which can also make them feel at home. Think about first impressions, refreshing non-fuss vibes, comfortable and sufficient seating and a few similar tweaks and additions. Here are some ideas to help you master the art of arranging flowers and cushions, this festive season.
CUSHIONS STYLING
A sad empty sofa during festivities can really affect your mood. A cushion or two or even five is always welcome for snuggling into and the aesthetic boost from the extra textures and patterns is the icing on the cake. While there are many different ways to create an eye-pleasing cushion arrangement, here are some we truly vouch for!
THE SEPARATED TRIO
A timeless cushion arrangement that can never go out of style, a set of three cushions on the extreme corners of the sofa is a tailored, mirror image kind of a look. Place the cushions at an angle and mix and match different prints and fabrics to add an element of interest to this classic display. This is also a great way to keep visual weight at the minimum while still having plenty of cushions for your guests to feel at ease.

Image Credits: studio-mcgee | emilysuenetz
THE CENTRAL FOCUS
While the above arrangement works best for medium to standard sized sofas, what about extra large or extra small seatings? Well, central cushions arrangements are the ideal option in such a case. Place cushions slightly away from the ends for a change from the norm. The arrangement is also a natural fit for curved sofas, which do not have structured ends. Try round cushions for this setting to contrast the linear lines of the sofa while still looking harmonious.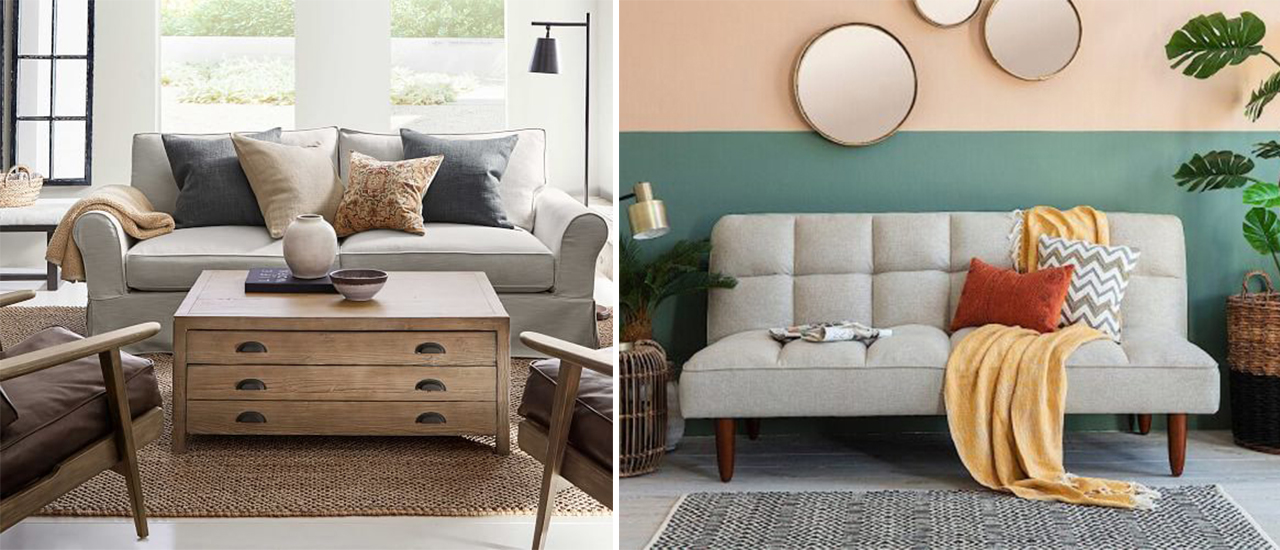 Image Credits: potterybarn | darlingsofchelsea
THE CONTRASTING SHAPES
Just like your well-treasured artistic walls and display cabinets, your sofa should also look well curated and thought off. And there is an option of going 'not so obvious'! Throw in some mandate square cushions, some lumbars and some circular cushion styles as well as the traditional bolster shapes for an exciting cushion cocktail on your living room sofa. For maximum impact, the cushion fabrics can be included in contrasting designs to further extenuate their individuality.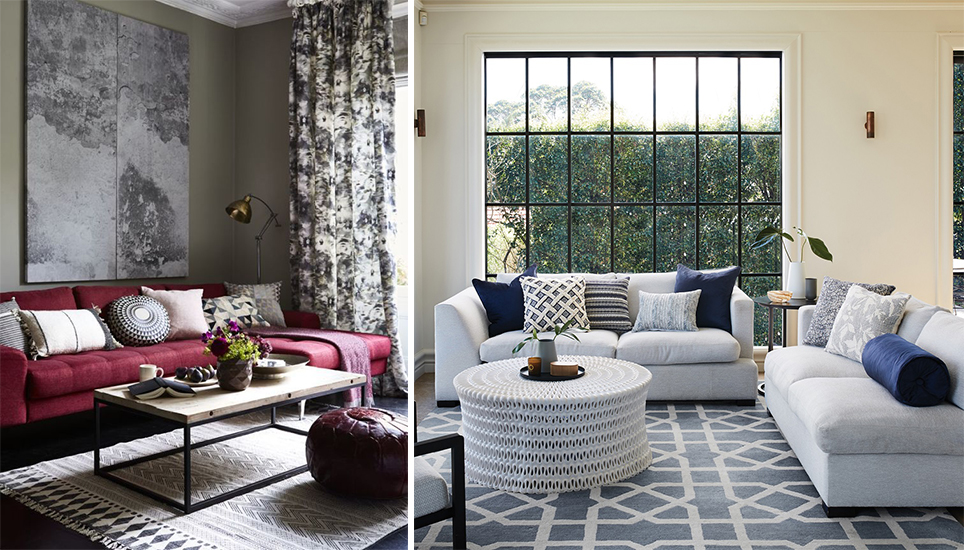 Image Credits: housebeautiful | zanui
THE FUSION CAST
For a designer aesthetic and an aesthetic that looks layered and interesting, try some fusion cushions, both in size and in the texture/ pattern. It can have as formal a quality as the other discussed styles, given the choice of refined fabrics and patterns, without being too overpowering. This look works well with throws, which can visually balance the otherwise asymmetrical look resulting in an arrangement that doesn't feel chaotic and boasts a slightly casual temperament.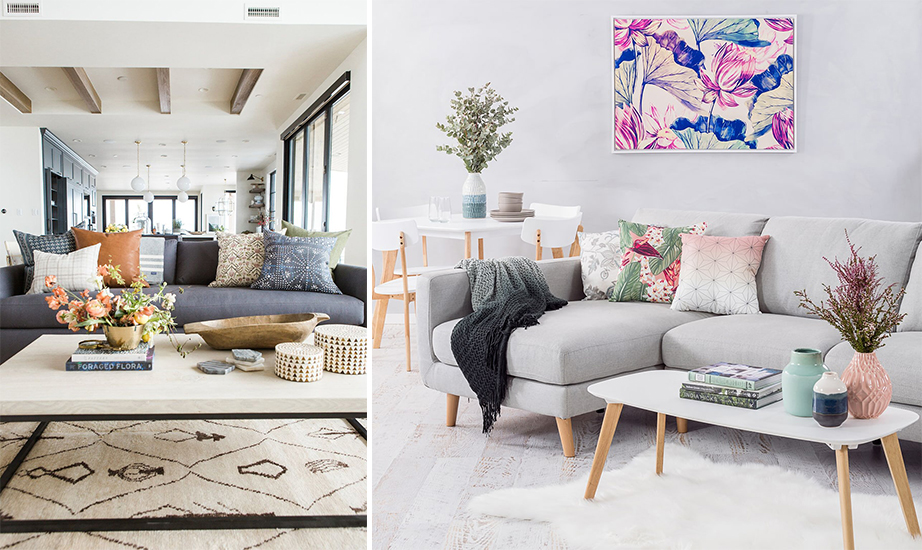 Image Credits: studio-mcgee | amartfurniture
FLORAL ARRANGEMENTS
Easy to procure, elegant in appeal and instant uplifters, flowers are the best way to bring in some splash of colours and fragrance to your home styling and décor and here are a few ideas to nail this!
TIMELESS HANGING GARLANDS
Dated back to the reins of great kingdoms, garland arrangements were used to create grand entrances during celebrations and weddings. Stealing the idea from our ancestors, you too can welcome your guests and family with a touch of grandeur by creating beautiful hangings of marigold, carnation or rose flowers along with some auspicious leaves, vines and colourful handmade tassels. These welcoming beauties will immediately set the mood for your festivities.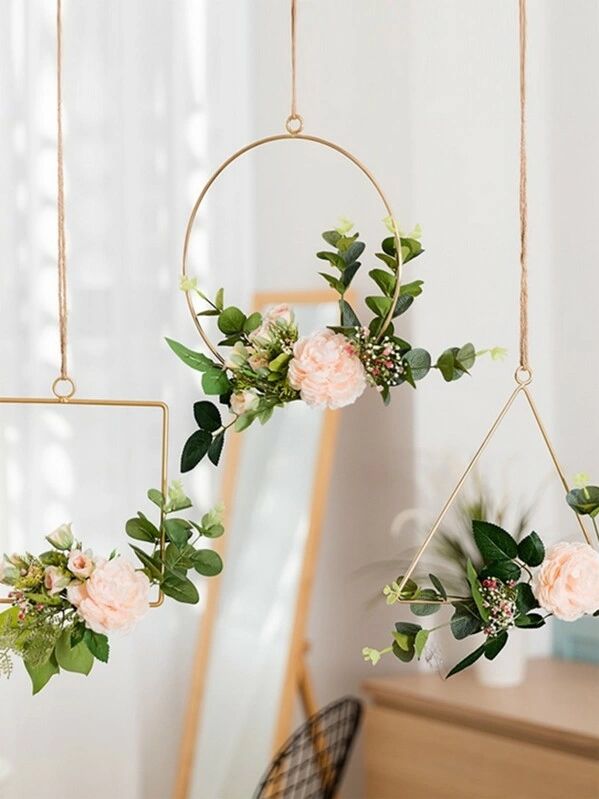 Image Credits: shein
BOLD DINING TABLE CENTERPIECE
Dining rooms take you to a different state of mind, into a state of Zen and while everyone's eyes move all over, rest them on a statement floral arrangement. An exquisite embellishment for your lavish meals, an extravagant and oversized vase filled with your favourite blooms will make for a celebratory and artistic touch in the center of your dining table. This will surely bring out an instant appeal while cleverly drawing away attention from the areas that are untouched.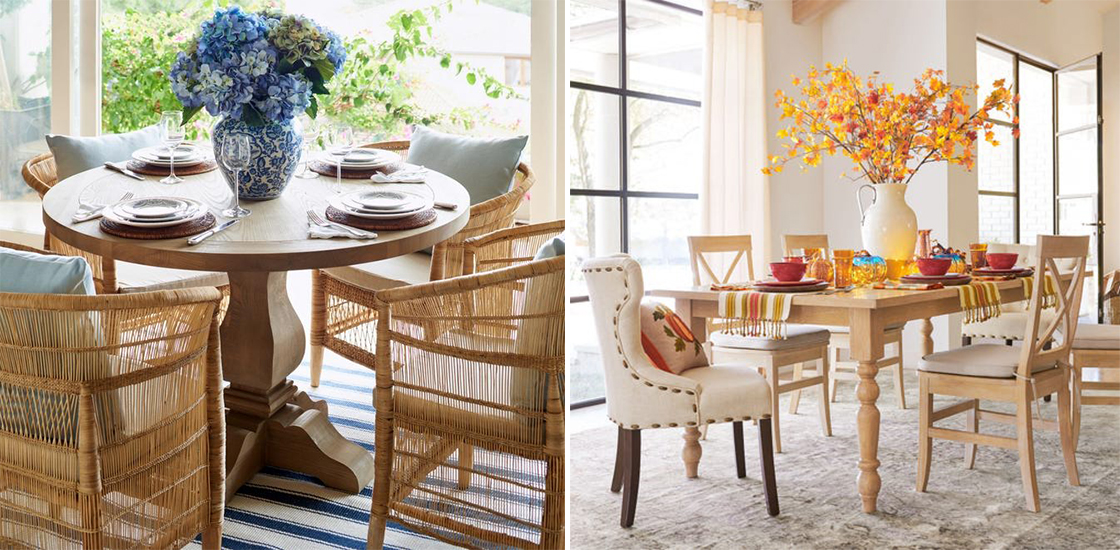 Image Credits: lavenderhillinteriors | pier1
MIX AND MATCH IDEAS
Bring out all your various vases and pots from your treasure trove because this is the right time to use them all without making them look forced. Show off your hidden talent by mixing and matching natural blooms in numerous colours to beautify your coffee tables, shelves, empty spaces beside the sofas and even bathrooms. You can always mix different vases and different flowers, whether classics like marigold with carnations or roses with lilies. Not just grace, these arrangements will spread their unique sweet fragrance around for the people who pass by, thus keeping everyone's mood in check.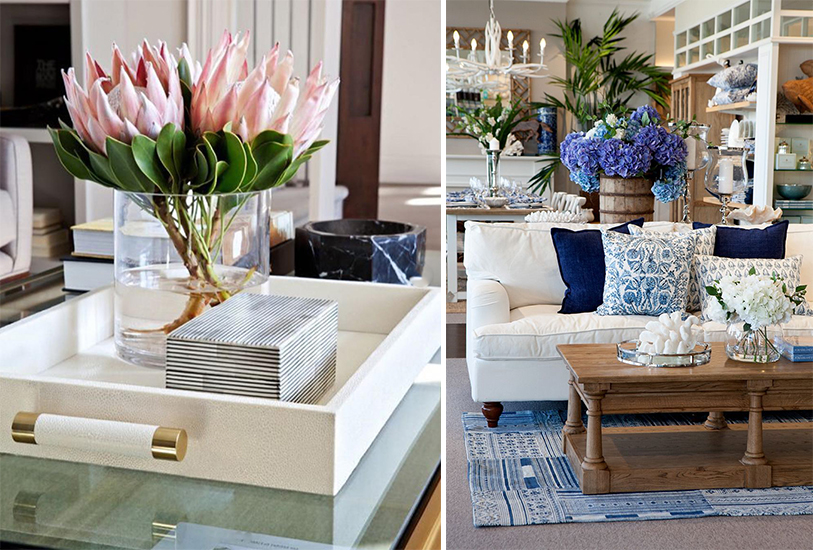 Image Credits: Instagram@alchemyfinehome | https://in.pinterest.com/
FLOOR DIYAS
Any leftover flowers or loose petals? Then its time to get in some floating scented candles and some wide-mouthed handmade pottery or glass bowls. Decorative candles and flowers make for eye-catching décor accessories for occasions like Diwali. Doll-up your room corners or your entrances with a number of these arrangements for a refreshing and a glittering look, right out of a Bollywood movie set.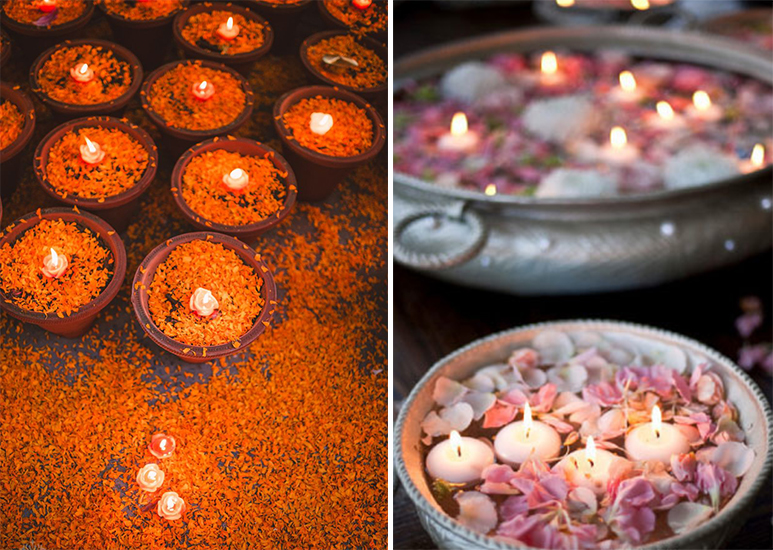 Image Credits: wedmegood | pinterest
Festivals are all about colour and some bling and why use them in obvious settings and same old ideas? Lets re-look at the most obvious things this Diwali, and add a touch of your creative flair to them.