Flowers Inside Your Home are Wonderful
Posted on September 17th, 2021 05:11 PM
Flowers, historically, are known to bring nostalgic romance to its surroundings. With sweet, bloomy aromas and beautiful hues they carry – flowers naturally tend to renew a space with its presence. In simpler times, a bouquet was refreshed every day in the main living room, plucked freshly from the outer gardens or verandas at home. Bringing back memories, when every joyful event called for the finest glass vase to hold a glorious bouquet of freshest exquisite florae.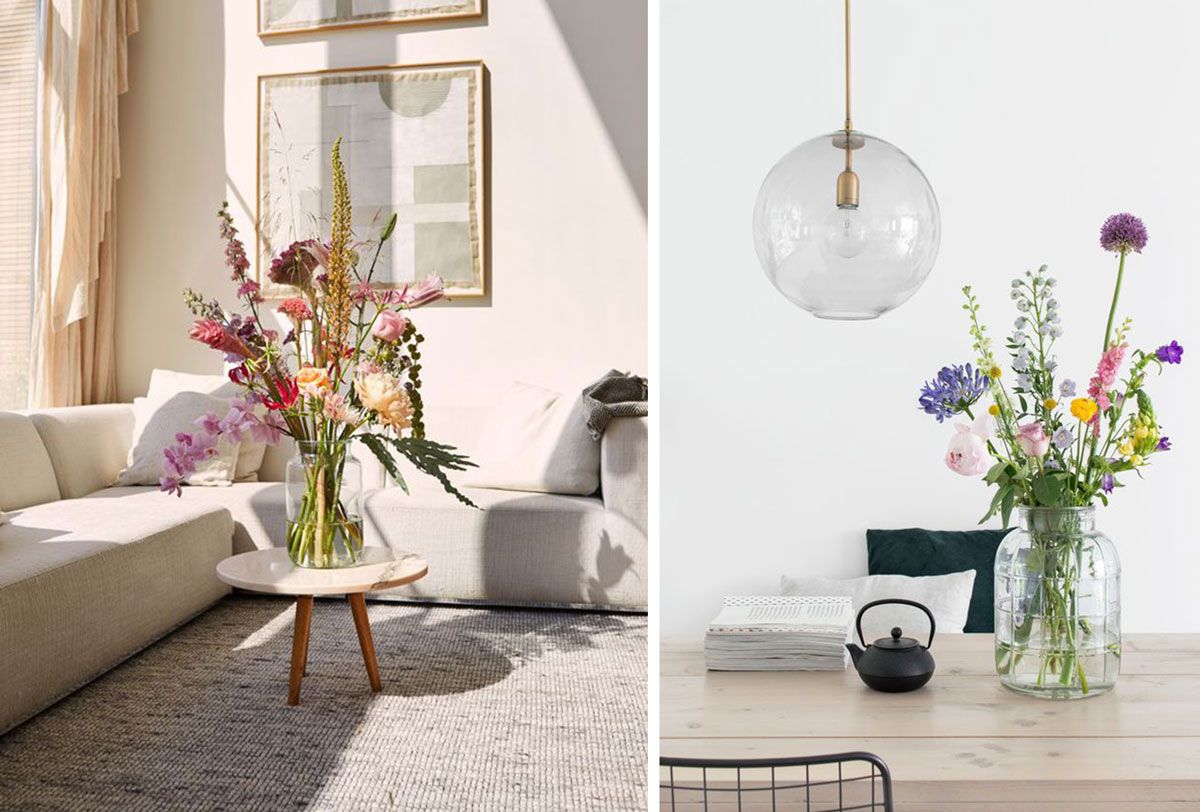 Image credits: Pinterest | Pinterest
Fresh flowers, carefully arranged to vitrine their loveliness, is the perfect way to add instant renewal to both indoor and outdoor settings. Allowing flower displays to elevate a simple area into an evocative setting full of aromas, insignia and textures that enhances the room's style, and adding a sparkle that works in every season.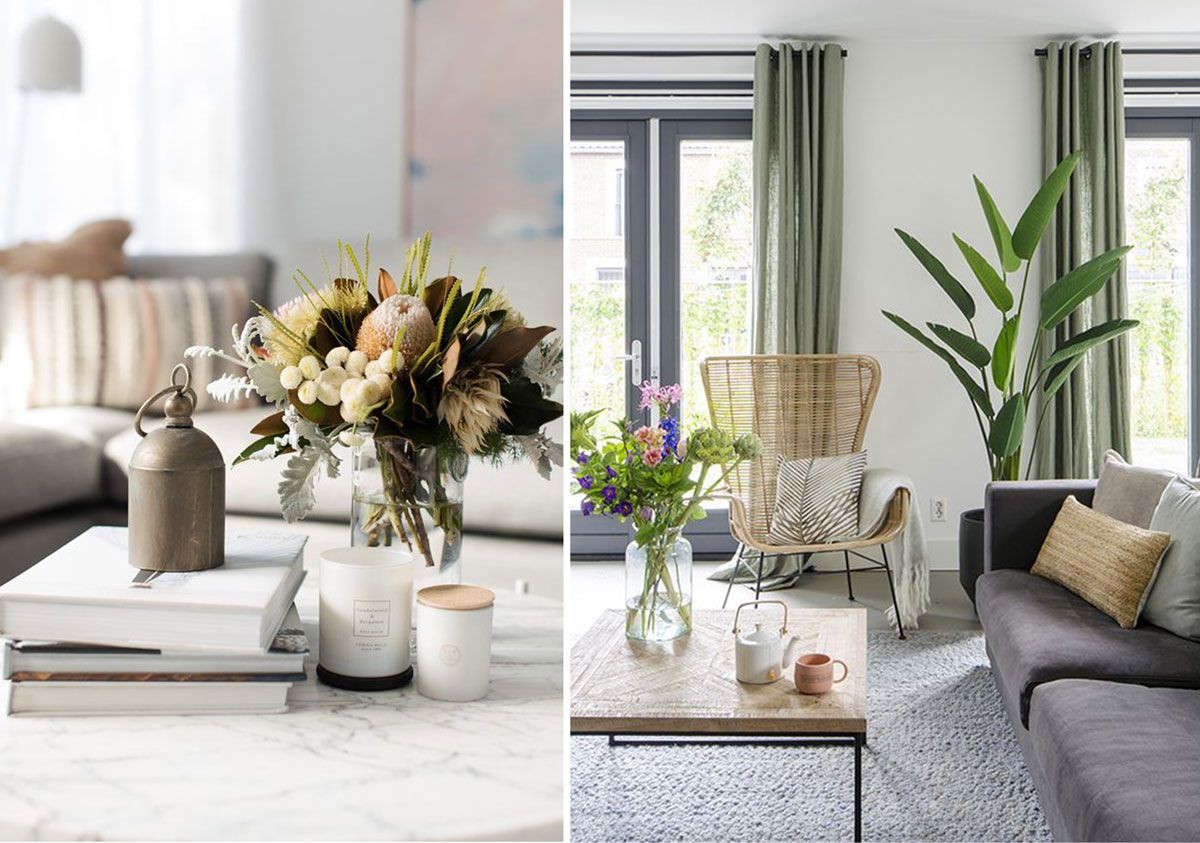 Image Credits: Pinterest | Pinterest
The best ideas to add a refreshing aura is to leverage plants and flowers to set the desired character. For example, pairing warm orange begonias, carnations and roses with the blue-green leaves of succulents and air plants will give a room a warm and welcoming autumnal glow. Using delicate baby's breath, fern fronds and intricate lace can lend a stately Victorian classiness to the décor, while casual clusters of wildflowers in recycled glass containers add a cheery-casual vibe to a room.
Thoughtfully designed flower arrangements are the perfect touch for special happenings. Add munificent cheer to fall celebrations, festive floral sparkle to Diwali holiday gatherings.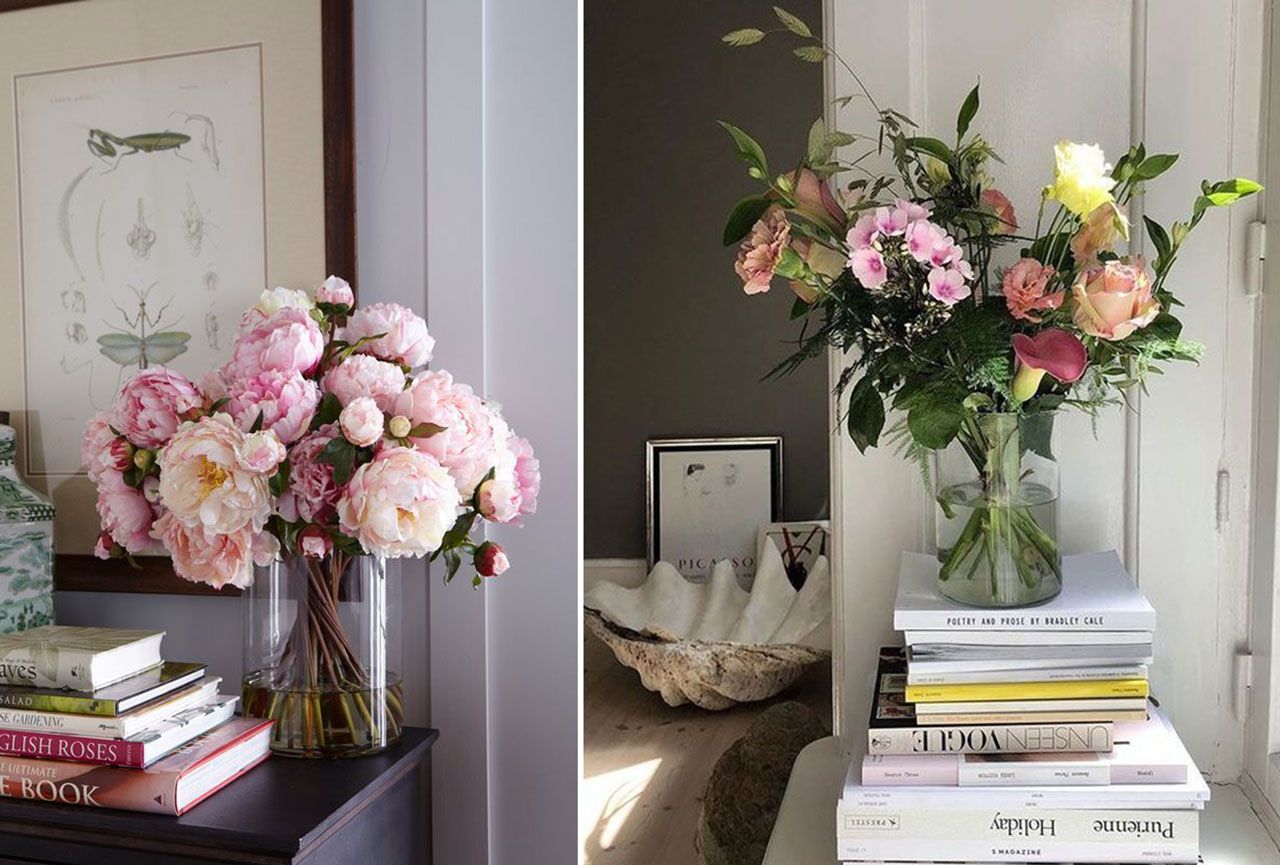 Image Credits: Pinterest | Pinterest
Whether you're looking for ways to brighten dreary days or ways to bring the abundance of garden-magic inside, you'll find plenty inspiration in the collection of using flower arrangements at home or work, keep reading and include the romance of fresh flowers this festival season.
Keep 'em garden-fresh
Real flowers look absolutely gorgeous, needless to say they require lots of care and love. The trick here is to ensure that you firstly obtain freshly harvested ones from your local florists and opt for the seasonal wonders. Place them on your main coffee table or entryway console. Or opt for the side table to hold the graceful large bunch. Fresh flowers on dining table sets a different romantic vibe. A delicate bunch for your bedroom is picture-perfect.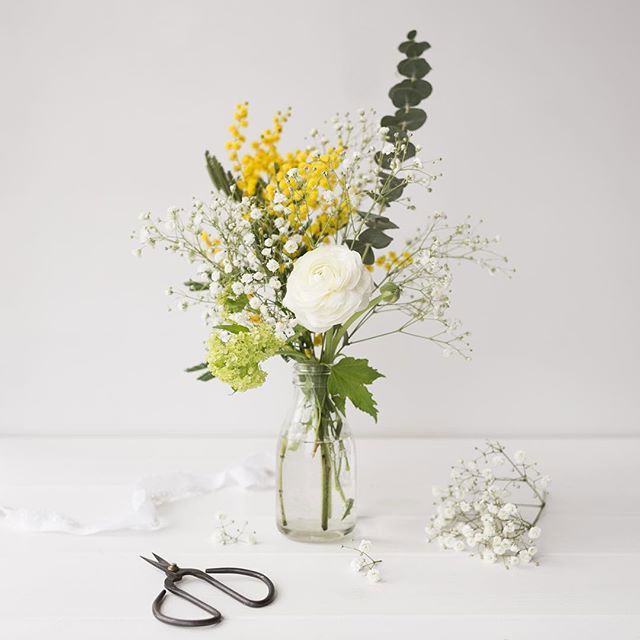 Image Credits: Pinterest

To keep your flowers longer, here are some helpful tips:
Crush an aspirin and add it to the vase water.

Pour ¼ can of soda into the vase.

Mix a few drops of vodka with one teaspoon of sugar into the water.

With a spray bottle, sprinkle water onto the underside of the petals.
Moreover, replace the water in the vase every other day. Taking extra care of your flower decorations by performing these tips can increase the life of your decoration, saving you more money from buying flowers daily or may be flourish your interiors with your beloved garden grows.
Learn the art of flower arrangements
Doing flower arrangements by yourself lets a satisfying feel, and maintains an elegance in your home with your personal touch, literally. Knowing some vital information about flower arrangements can offer you manifold doles.
Initially, you have to prepare the flowers by removing its unnecessary parts. Using sharp scissors or clippers, remove the thorns from the flower stem and cut all excess leaves that might get flooded in water. Submerged leaves rot quickly and damage the whole plant, decreasing its life. Lastly, make a 45-degree angle cut on the end of the stem before sinking it into water.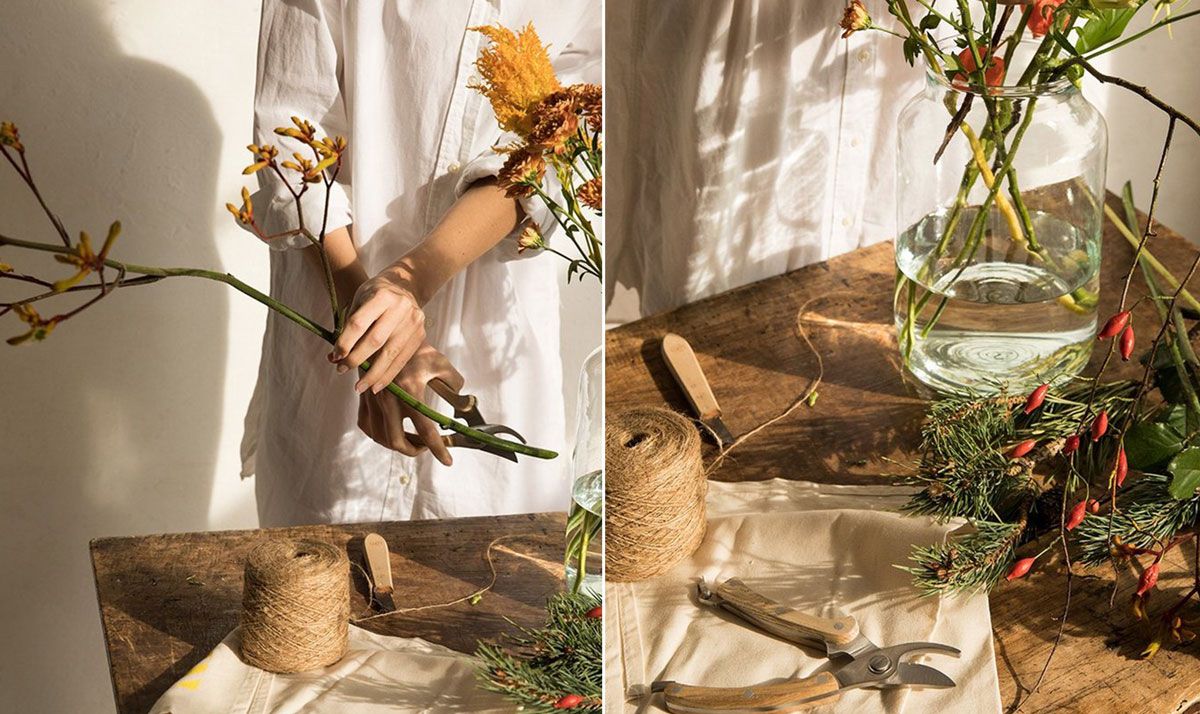 Image Credits: Pinterest
The basics of flower arrangement:
Larger flowers should always be at the center.

Smaller flowers are placed around bigger ones.

Always use floral foam or tape to keep the flowers in place.

Extra spaces can be filled with greenery and little flowers.
Your flower decorations can expressively influence the mind's acuity and emotions of persons looking into it through color psychology. While the human eye can recognize a million shades of colors, they generally fall into two categories, warm and cool.
Warm Colors
Basically, warm colors, such as red, orange, and yellow, are responsible for expressive provoking and kindling feelings. These are associated with cheer, positivity, happiness, encouragement, and reminds you of the warmer season.
Additionally, these colors are suitable for dull and lifeless rooms with only a few decorations, boosting energy for anyone facing struggles, and increases the sense of connection and rapport between you and your visitors.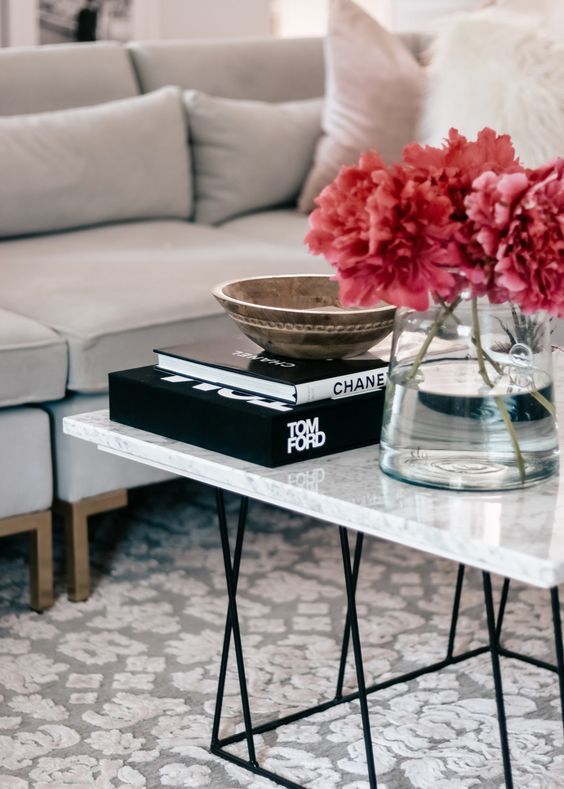 Image Credits: Pinterest
Cool Colors
On the other hand, cool colors, such as green, blue, and purple, establish relaxation and tranquility to the eye. These are the perfect colors to look at after a long and tiring day at work.
These cool colors are perfect for your home's entrance as hanging decorations, bedrooms, and reflect luxury. Anywhere you want a delicate touch of aroma, romance and elegant charms.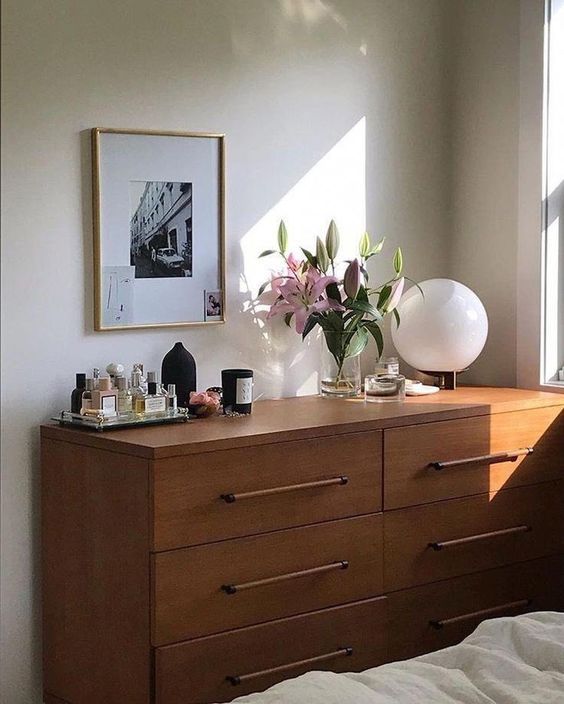 Image Credits: Pinterest
Select aroma's in intimate spaces
In bedrooms and bathrooms, where privacy is priority, use aromatherapy flowers. This way, you're fully utilizing flowers by not just using them as decorations, but also benefiting from its fragrance.
There are aromatic plants with a mild smell like lavender, chamomile, and mogra. If you want to level up the romance, Indian red roses are your calling.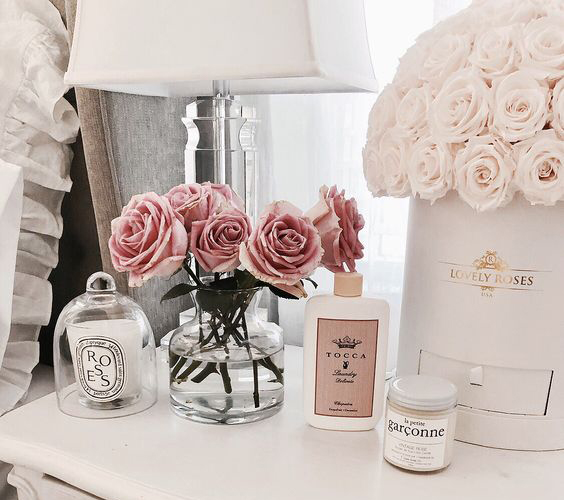 Image Credits: Pinterest

Decorating your home with flowers reveals a lot about the lifestyle and persona of its owner. Fresh flower arrangements at home are actually more than just that, they represent a blend of style and indulgence that none can replace.
This year, we indorse you to bring the nostalgic vibe back to your homes with a bouquet of aromatic finds from your local markets, and see your home gleam a unique glow. There is nothing more interesting than a natural display of flora elements in your home. We hope these tips can inspire you to create a festive renew in your space this season with beautiful fresh flowers; whether for your own home or to gift it loved ones - find vases, and more on www.gulmoharlane.com
Wish you all an inside-out #Renew this season.