Is your home ready to host the upcoming celebrations?
Posted on October 3rd, 2019 11:24 AM
So it's that time of the year again when there's a palpable air of festive excitement, of excitement to indulge in celebrations, fun and laughter. Not just you, even your surroundings should adorn some of that warmth and jovial cheer. Are you too hosting holiday celebrations this year? Don't worry you got this. Before friends and family invade your home, run through our checklist to make sure your place is as ready as it can be. This year, its not just about adding a touch of luxury, it is about creating a warm, inviting space that enriches the experience and weaves memories for a lifetime.
ADD SOME EXTRA SEATING
Probably the most obvious in this list, some extra seating comes as blessing in disguise when hosting for large gatherings. Throw in some floor cushions, bring in ottomans or use those footstools as additional seating options. Make sure to blend these add-ons with your existing décor so that they don't look forced and fit in seamlessly. Even if you are mixing and matching, don't go too overboard.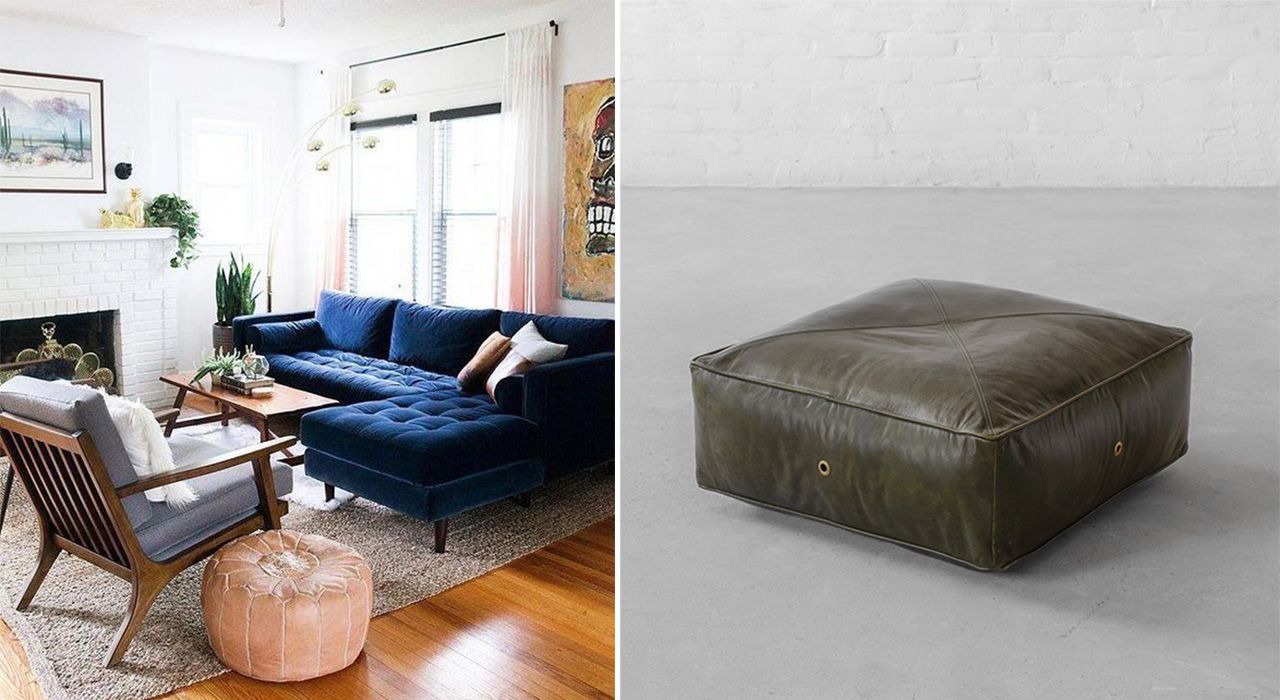 Image Credits: Article | Gulmohar Lane
DECLUTTER YOUR TABLES
We know you love your collectibles but this might not be the perfect time to show them off. Keep decorations on your side tables and coffee tables to a minimum, as this will give your guests some space to rest their drink ware and belongings they bring along. But you can always keep some scented candles, a vase with some fresh blooms or some mini festive decorations as they utilize less space and are brilliant mood enhancers.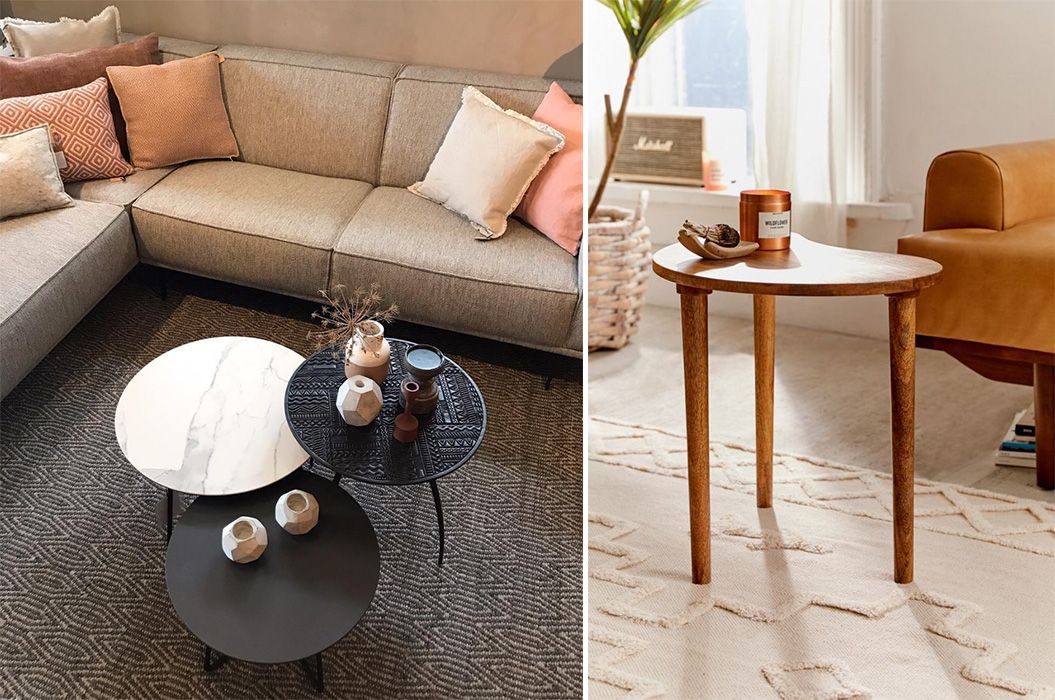 Image Credits: Instagram@WoonwinkelAllepilat | urbanoutfitters
KEEP VALUABLES AND BREAKABLES OUT OF REACH
In continuation to the previous point, we recommend to keep your valuables and breakables out of reach, as you would not want these delicate beauties to meet with any causality. In a limited space surrounded by your loved ones, everyone might not be as careful as they usually are and your favourites might have to take that fall for you. Its better to place them on top of the shelf or in your glass cabinets, so that they are safe and secure while still spreading their charm.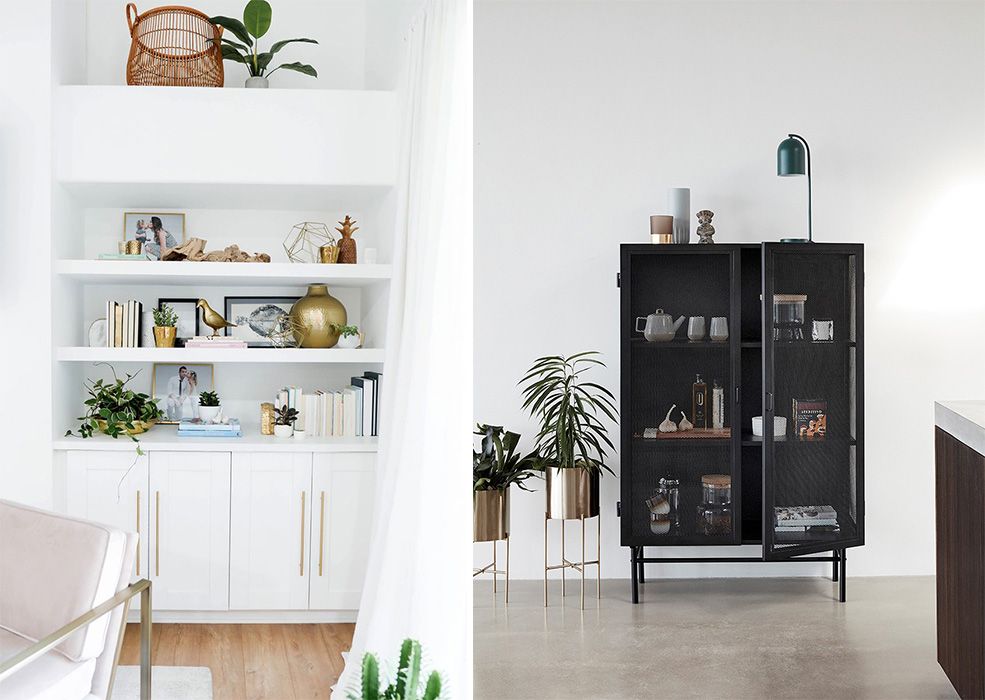 Image Credits: theeverygirl | woodesign.ie
BRING IN SOME COZY NEW ELEMENTS
We tend to hold on to home décor accessories for too long. This might make our homes look dull but you can always enliven it by adding new curtains, carpets and cushion covers. Opt for bright, vibrant colours instead of the understated neutrals, as we are talking celebrations and festivities. Another great idea would be to redo the upholstery of your sofa to have a spanking new one at a fraction of the cost. Also, have plenty of soft pillows and blankets around for prolonged comfortable conversations. This simple trick can make your home transition from the old to something new and glamourous.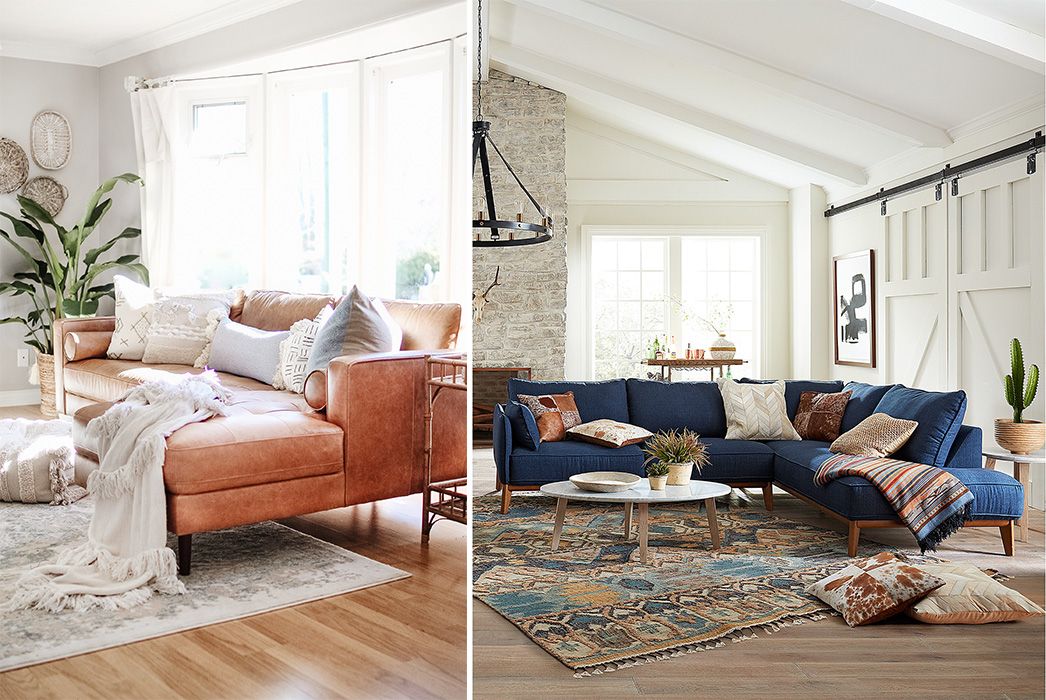 Image Credits: Whitepicketfarmhouse | macys
GREET THE GUESTS WITH ZEST
As always, your entryways and your dining tables should be showstoppers, as one will welcome your guests into your home and the other will reconnect you to the people in the room and also because what are celebrations without some delicacies, right? While your entryway should set the mood for the occasion that you are celebrating, your dining table should build on that and must look appealing. Decorate your entryways with some interesting installations/ life size showpieces or simply add festive galore to your console table. Your safely kept bone china, creatively folded hand napkins with some shiny brass or metal cutlery and fresh blooms can effortlessly give your dining table a celebratory makeover. Take your interiors up a notch and away from the mundane with these simple yet significant changes.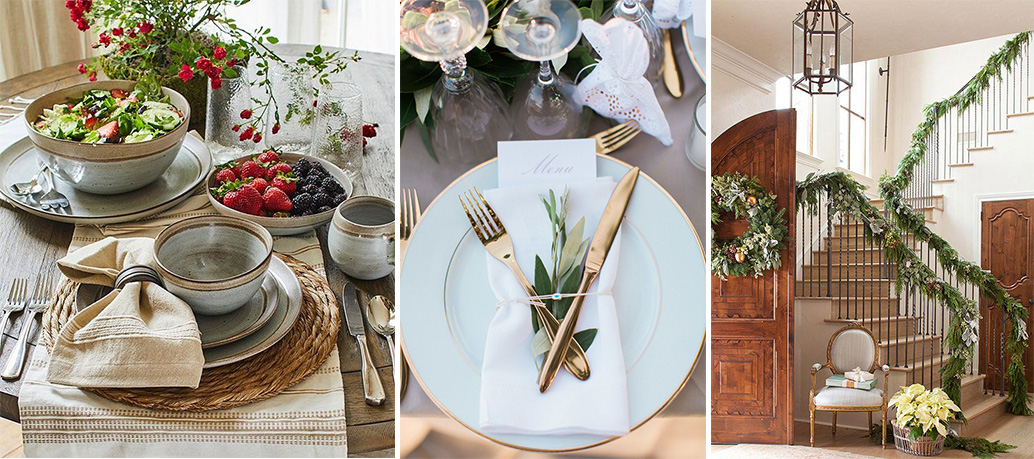 Image Credits: dillards | stylemepretty | traditionalhome
KEEP YOUR BAR STOCKED
A spirited home bar keeps the festive or holiday cheer flowing. So pick out a spot away from the kitchen for guests to get drinks and congregate. Use a bar cart for small spaces or create a spread of liquor, mixers and all the accoutrements on a buffet or sideboard. If you already have a bar space in your home, even better! Just stock it and add festive decorations. Also, what good is a bottle of wine without a corkscrew, a bottle of beer without an opener or the makings for a shaken-not-stirred martini without the shaker? Because these items seem so obvious, you might overlook them, which will leave you to hustle all over the kitchen for the right tools. So make things easy on yourself by stocking these bar tools too!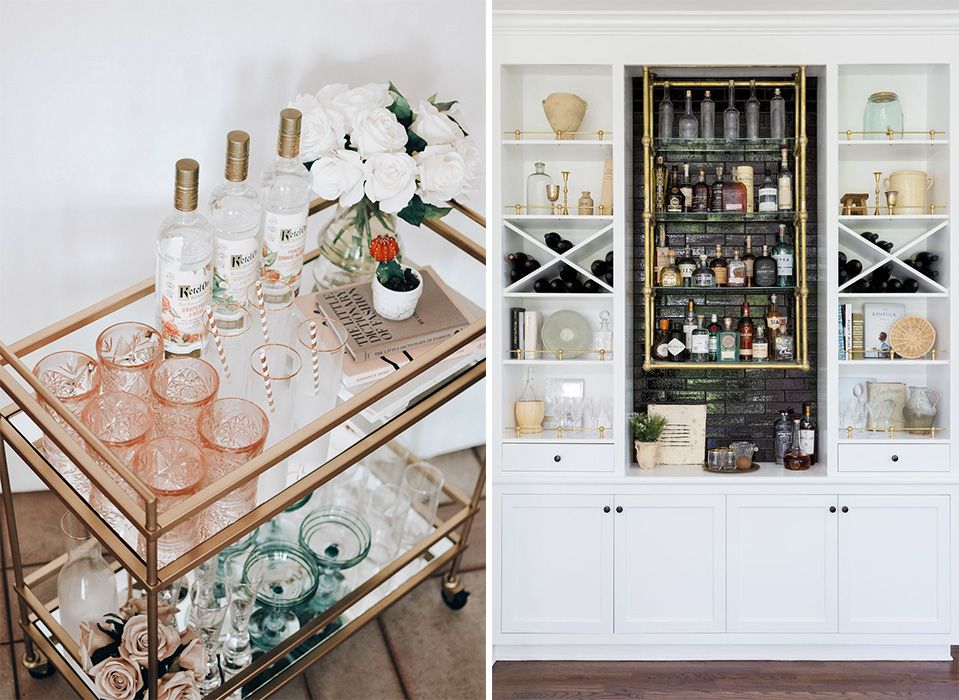 Image Credits: daniellegervino | mydomaine
ACCESSORIZE YOUR BATHROOMS
Some memories fade away with time, but the way your bathroom looks and smells is one memory that isn't going to fade anytime soon. Leave lasting impressions on your guests by simply perking up your bathroom or wash area. Hang a fresh hand towel or you can also choose to add a basket of small hand towels (for individual use), some tissues are always handy, a waste basket to hold your used napkins/ towels is a must and there should be abundant soap in your dispenser. Apart from these essentials, you must also add scented candles with potpourri or a bouquet of fresh seasonal flowers to fresh up the space and get rid of any bad odour. Also remember to remove your personal clutter from the countertop. A dry mat right at the bathroom door will prove to be your true saviour, post party.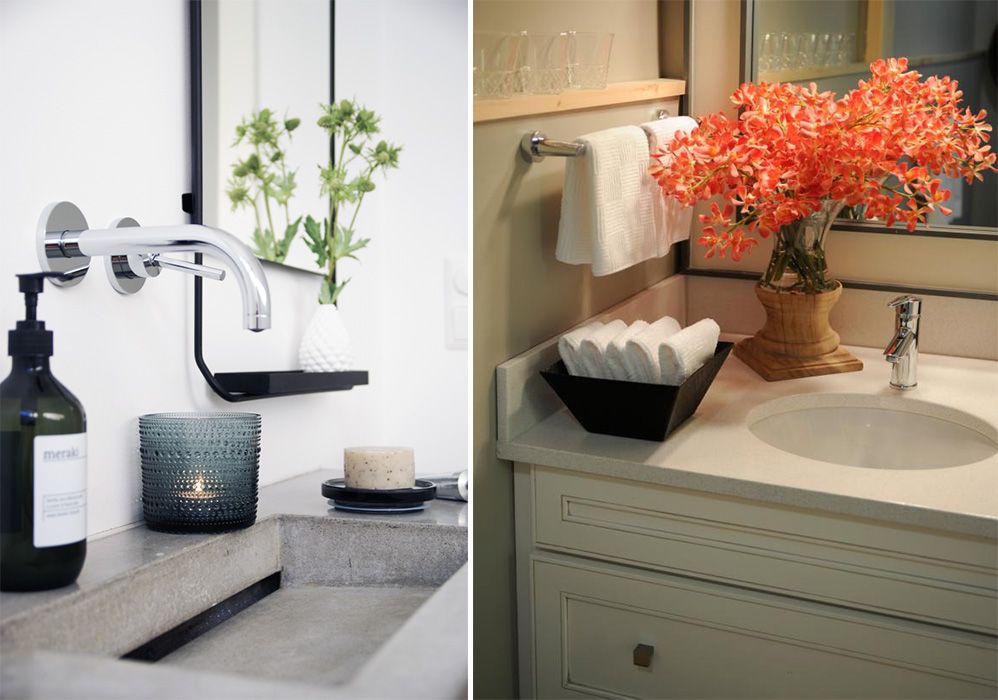 Image Credits: funksjonelt | hgtv
PREPARE FOR SPILL EMERGENCIES
While you don't want to expect the worst, it certainly won't hurt to be prepared for it. Believe it or not spills happen. So instead of panicking, prepare well in time for such emergencies. When you are having guests over make sure that you have a cleaning kit ready (somewhere easily accessible). Stain remover, cleaning cloth and a bucket are more than enough to deal with such unexpected mishaps. And while at it, why don't you explore Gulmohar Lane's newly launched leather cleaner and conditioner, they have been specifically designed for Indian homes and spills. Stock up on them, well in advance, before the celebrations kick in.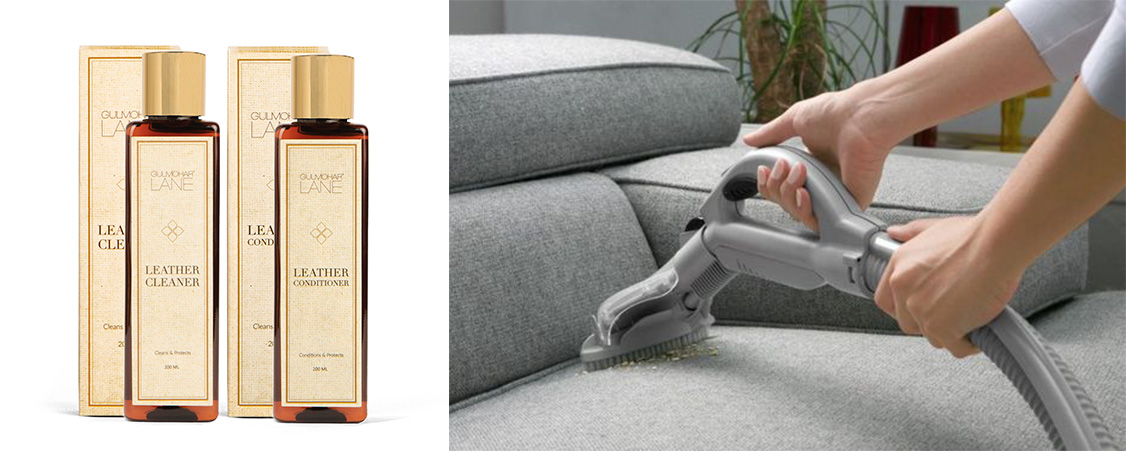 Image Credits: Gulmohar Lane
Now that your home décor checklist is sorted, you can finally think about what to wear, what to cook and most importantly who all to invite! So get going, have fun and don't forget to capture these moments…