My Memorable Dining Table
Posted on February 24th, 2022 11:12 AM
Not many rooms have the significance of the dining room, and not all spaces can take intrepid and aesthetically inclined styling all at once! We present our favorite design styles from some of our collection to give you inspiration and to show how your dining room design can be as different as you want! These ideas will suit all tastes due to both the versatility and original stylishness!

Continue reading to know more!
If dining table could speak, they'd have so much memories to share. After a prolonged period of isolation , socialization is back on table. Create a setting of love, live with an urge and make your most exciting dreams come true. Your dining room style should excite, provoke and polarise, but never fail to surprise for its ingenuity, daring and singular quest to uplift the human spirit and entertain.
PUT VARIETY IN WHITE
A light-hued dining room may raise a few eyebrows among parents of spaghetti slinging toddlers, but in this age of purposeful minimalism. A clean whitish look brings a soothing-to-the-eye style and looks gorgeous. Pair with a few contrast tints for a guise that inspires a crisp scheme with aesthetical statements.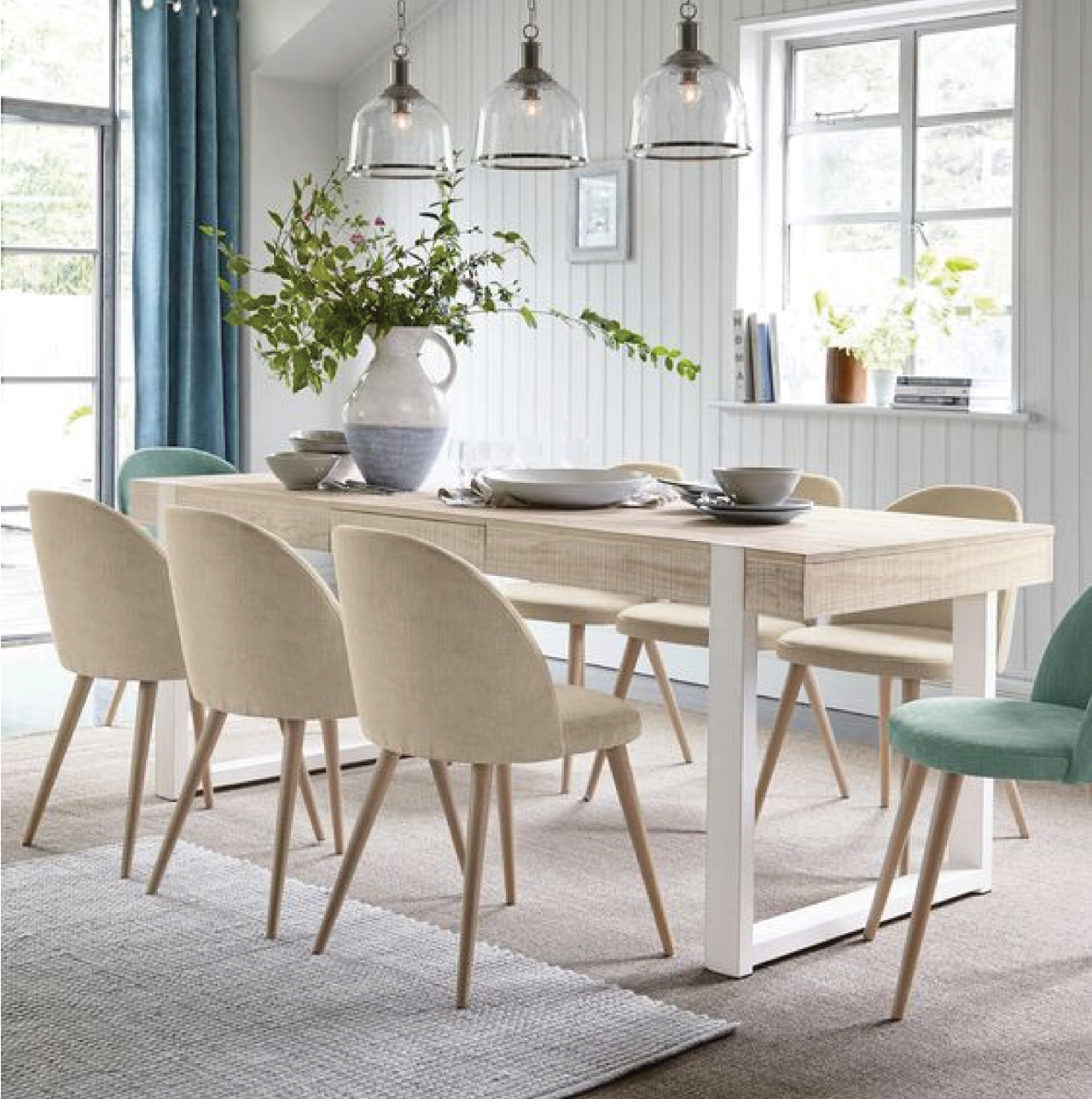 Image Credits - Pinterest

Celebrate a design with a beautiful synergy of patterns, colors and materials. An interior design style that creates spaces with tones of visual interest and the combination of geometric shapes and different scaled furnishings is an integral part of this design theme. Think Art-Deco inspired elements that celebrate gold inlays, geometric shapes and clean-lined yet subtle curved forms. Let these dance around with a mix of textures and materials for simple sophisticated looks.
GET THE LOOK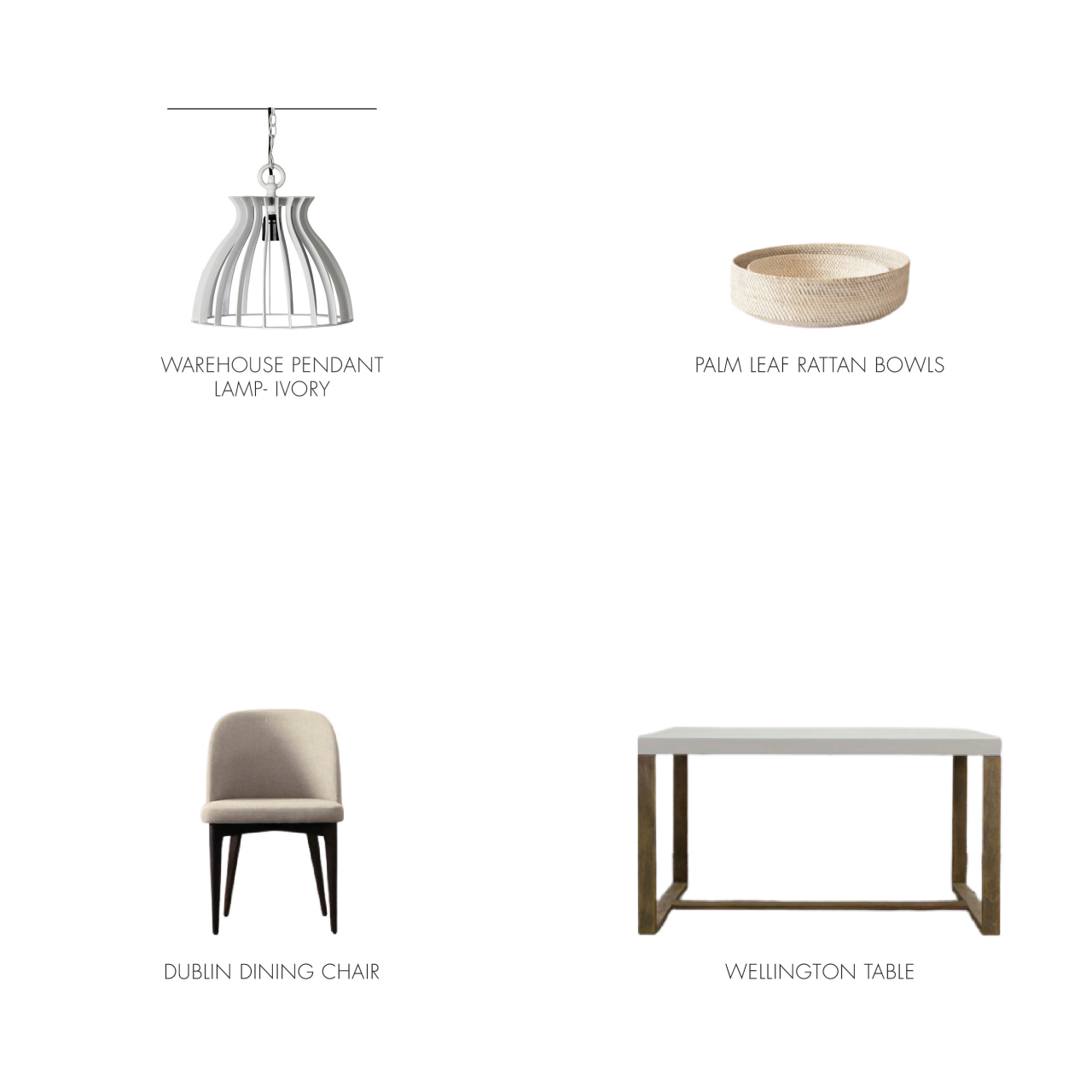 FOR THE LOVE OF BEIGE
Earth tones are natural colors that you would see on earth like brown, white, beige and other neutral colors. In a dining room these tones effortlessly create a warm and elegant atmosphere. Think natural rattan elements, a bend toward handwoven ensembles and simple sophisticated forms.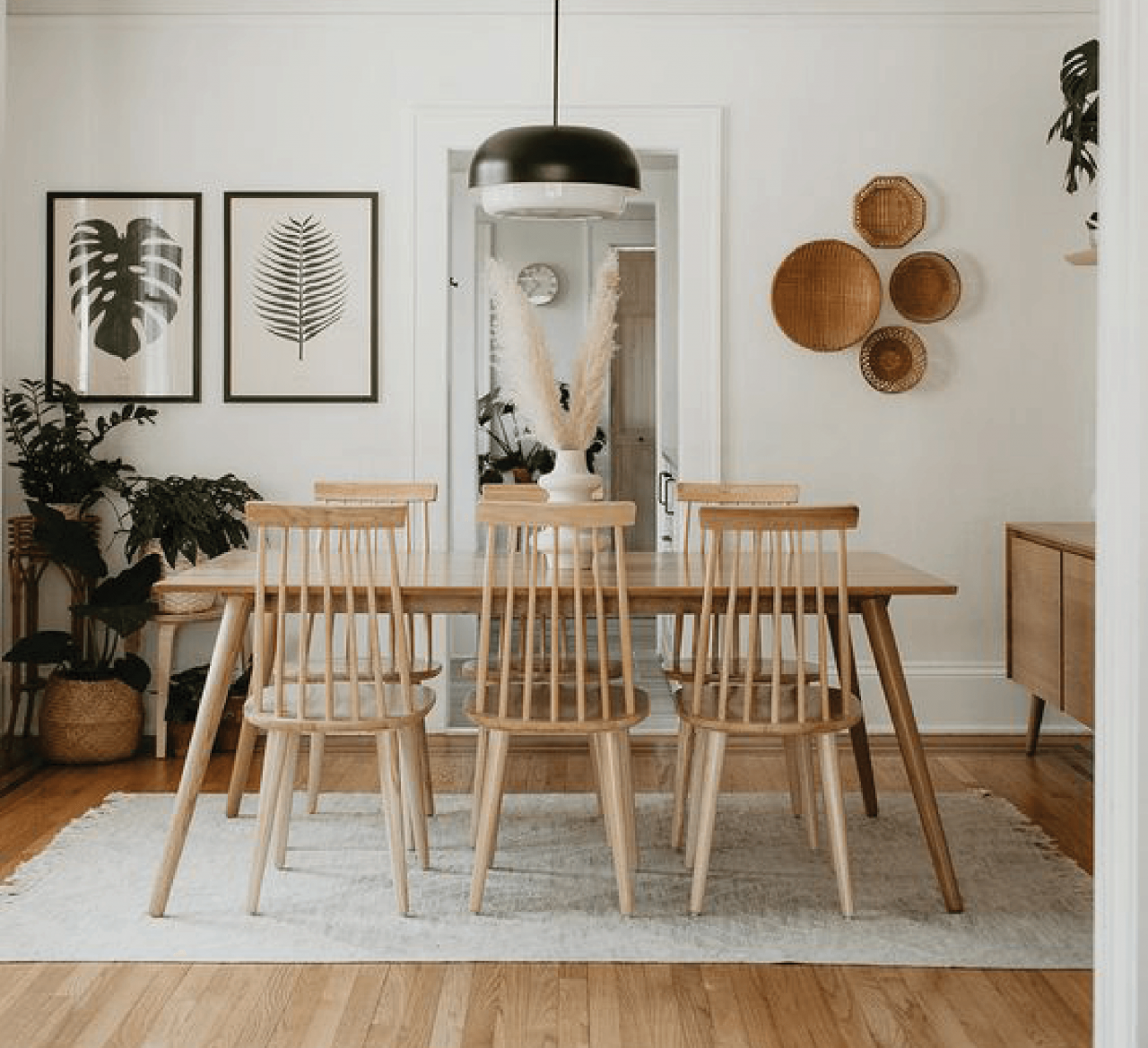 Image Credits - Pinterest
The home is the essence of one's inner self. Hence creating one's sense of style is very much told by the manner in which one lives. We just love the rustic inspired vibes in dining room set ups. Think natural rattan elements like fruit baskets, rattan chairs, a beautiful seagrass pendant and a natural wood table in lighter finishes. It evokes a sense of cottage-like feel and looks simply beautiful. The magic in the organic forms and textures.
GET THE LOOK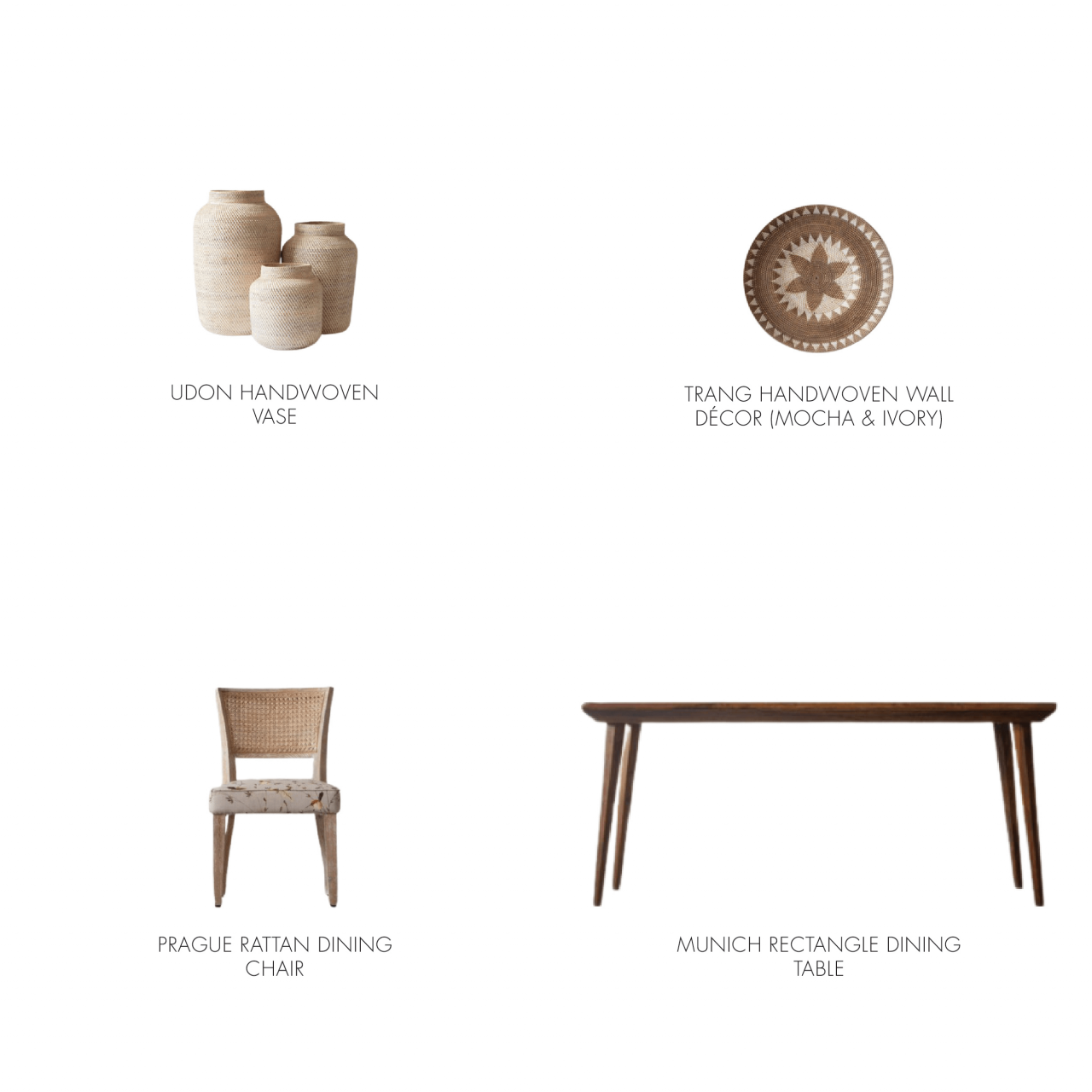 BEST IN BLACK

Black adds refined vibes, style and chic classiness to spaces and can be used in a variety of ways to fit in with the theme, style and size of your dining room. Adding black to the dining room does not necessarily mean creating a dark and gloomy setting that borrows from an era gone by (though that look works like magic in certain cases!). It adds a developed tasteful theme to them.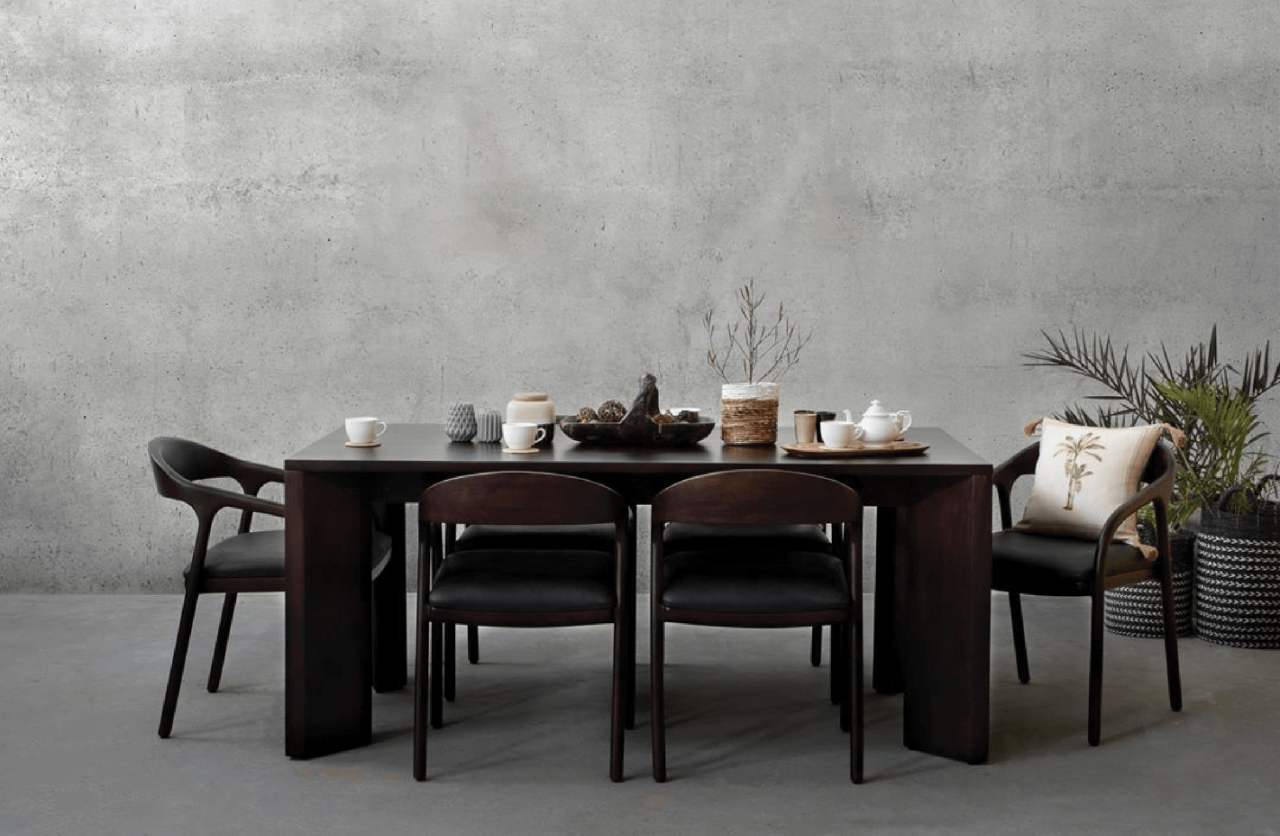 Choose resolutely a contemporary style—blending a purist sensibility, site-specific art, and bespoke modern-like furniture forms—with minimal design aesthetic. Make gathering and quiet dinner times special with this style. Add elements that celebrate your personal taste.
GET THE LOOK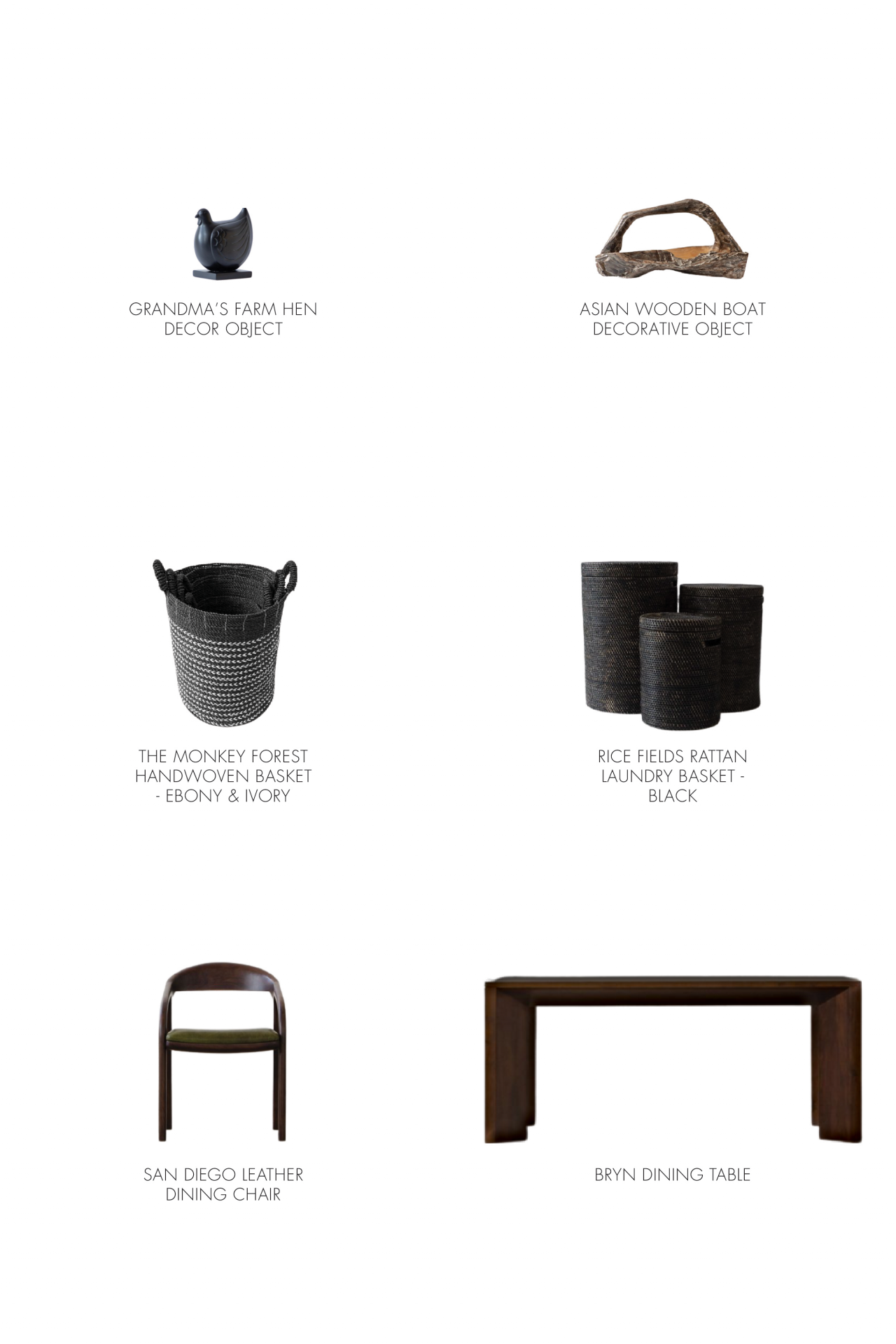 HOW TO PICK
• Find pieces that are simple yet refined and can be featured on an endless array of settings and match an infinite number of styles, from a contemporary project to modern dining style, without being too discreet. Solid woods and natural fabrics make for an ideal set of go-to options.
• The art of simplicity rather than ostentatious splendour is route to take for conception of luxury.
• Through an exploration of materiality, color, forms and an intuitive juxtaposition of contemporary and vintage, architectural and organic, graphic and instinctual, curate a wealth of experiences into your dining space.
TO CONCLUDE
Give your dining space the attention it needs and discover how it ties the whole house harmoniously. Layer with colors, materials, textures and elements that bring wholesomeness and celebrate life. Above all – go for the style that appeals to you the most! Find inspiration on www.gulmoharlane.com and please do share your thoughts with us!