Native Printing Styles that Make Indian Textiles Desirable, Worldwide!
Posted on March 16th, 2019 05:05 AM
India - A land of abundance, a land of 300 gods & goddesses, a land of 9 major religions & a land of heritage! In this mystical land lies another gem, the Indian Handloom industry, preserving & rendering a beautiful picture of our age-old heritage. Known worldwide for the richness & purity of its textiles, each handcrafted piece is adorned with lively colours & prints, specific to different cultures blooming across India. Inspired from nature, ancient architecture of temples & forts, rural lifestyle and abstract patterns, these prints speak a thousand words to the beholder.
Native Printing Styles that Make Indian Textiles Desirable, Worldwide!

This blog post contains a list of native printing styles in India that command your attention & need to be preserved, promoted and appreciated.
#Style1
Ikat - Blurred Beauty
Dyed and binded into threads before the cloth is weaved, the technique of Ikat uniquely uses the process of resist dying. Practiced in Gujarat and Telangana, this craft uses individual yarns or bundles of yarns that are bound with a tight wrapping in the chosen design and then dyed to create the desired pattern. Called the 'Poetry of the Loom' due to the tedious & intricate weaving process, Ikat is usually done on silk or cotton fabrics and has an intentional bleed and features blurry lines, which is its key identification factor. Also note that less the blurriness, expensive the Ikat fabric!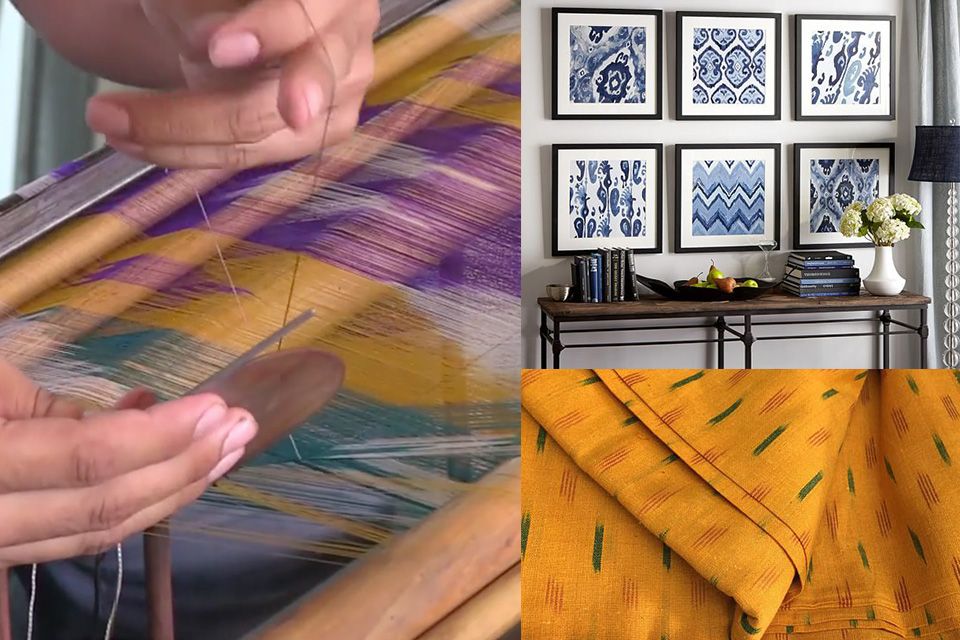 Picture Credits: Vimeo | Etsy | PotteryBarn
#Style2
Bandhani - Knot. Dye. Reveal
The oldest form of tie & die art, Bandhani originated about 5,000 years ago with earliest visual representations in the Ajanta caves. Started by the Khatri Community of Gujarat and brought to its peak in the state of Rajasthan, the art/ technique of Bandhani is as exciting as it's history. This involves dyeing the fabric when it is tightly tied with a thread at several places. These threads act as barriers and don't affect or stain the untied parts, thus forming interesting patterns showcasing either dots or stripes or waves or squares.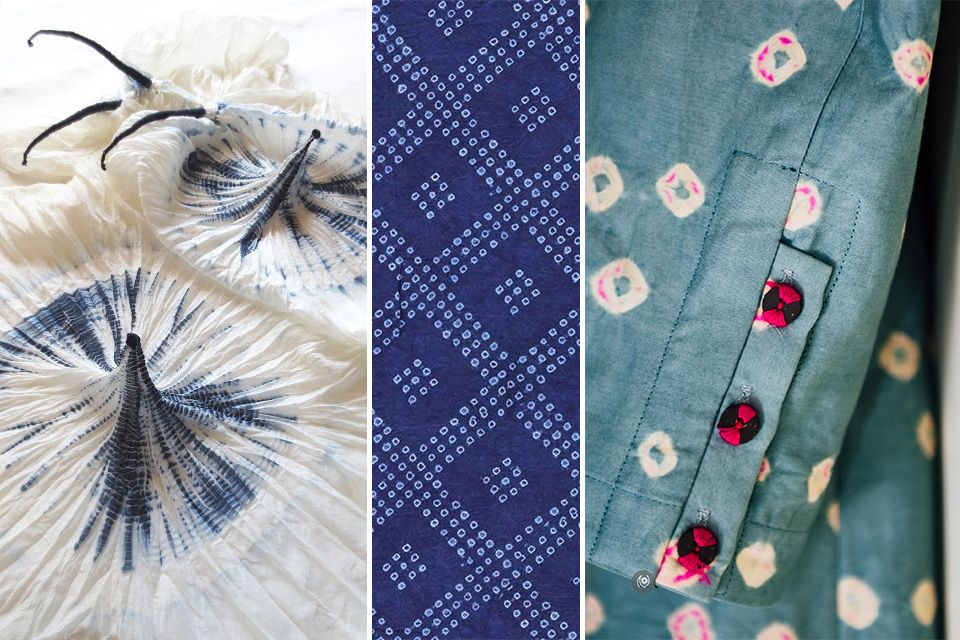 Picture Credits: lucialaptextiledesigner@Blogspot | coquidv.tumblr | Naina.co
#Style3
Bagh Print - Everything Organic
Originated in the Bagh district (now in Pakistan) and widely practiced in Madhya Pradesh,Bagh printing is a traditional block printing technique that only uses natural colours. In this printing technique, the cotton and silk cloth is subject to treatment with the blend of corroded iron fillings, alum and alizarin. The inspirations for designs & patterns in this handicraft include nature (jasmines & mushrooms), architecture (jaalis of Taj Mahal & old Mughal architecture), landscapes and geometrical figures.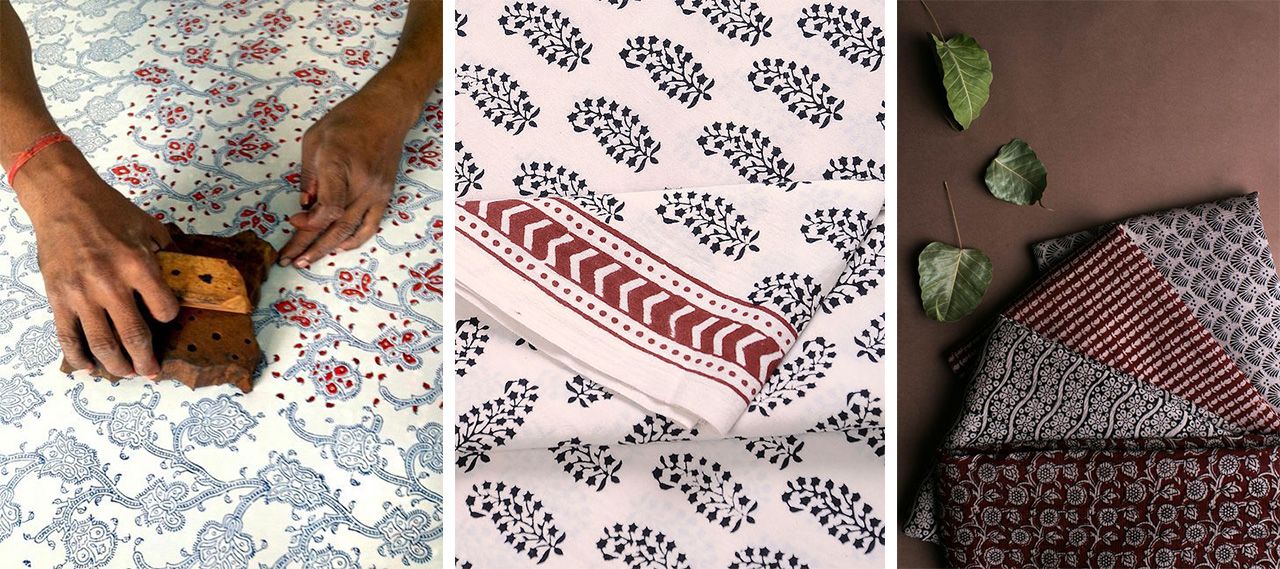 Picture Credits: lapalelune.tumblr | Jaypore.com | fabriclore
#Style4
Batik Print - A Story Behind Wax
A wax-resist dyeing technique that is used to decorate textiles, Batik is a complex dyeing process that creates beautiful, intricate designs, unique to the region they come from or tell a story. The process uses dye-resistant wax to create elaborate patterns and designs and the wax is then washed to reveal the batik pattern or the process is repeated to create multiple colours. You can tell a piece is truly batik when the colours and the design are on both sides of the fabric, as compared to screen-printing, where it is usually one-sided.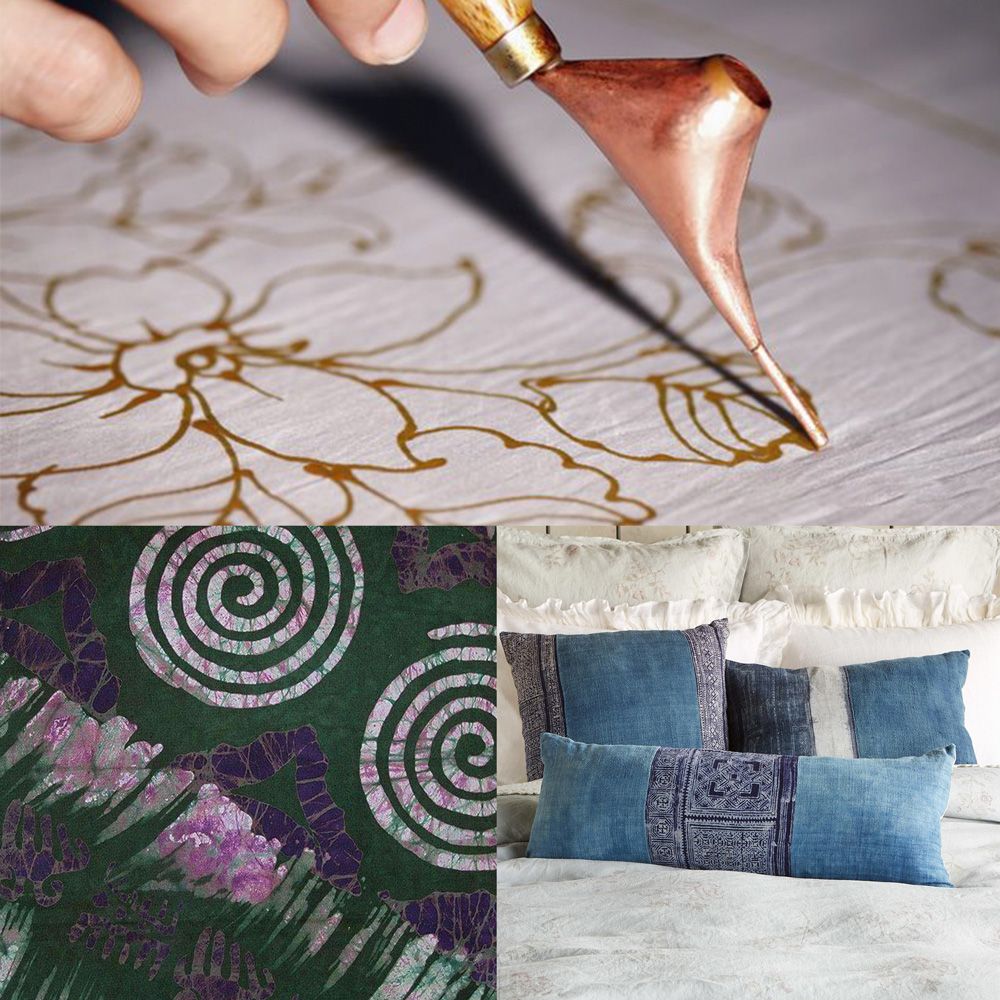 Picture Credits: jadibatek | Anansevillage | sundancecatalog
#Style5
Kalamkari - The Magic of Painting with a Pen
Involving 23 tedious steps of dyeing, bleaching, hand painting, block printing, starching,cleaning and more, Kalamkari is an ancient style of hand painting done on cotton or silk fabric with a tamarind pen and using natural dyes. One of the most awe-inspiring prints, the technique is inspired from the episodes or stories drawn by the musicians, artists and storytellers in the divine kingdoms of India. From flowers, peacocks and paisleys to characters from the Hindu epics like Mahabharata and Ramayana, Kalamkari is primarily adorned by handloom sarees.

Picture Credits: Etsy | Maiwa | Fabriclore
#Style6

Ajrak - A Blue Love Story
With deep crimson red and indigo blue background, symmetrical patterns with interspersed unprinted sparkling white motifs, Ajrak is a type of block printing. Derived from 'Azrak' which means blue in Arabic; blue is one of the principal colours used in this technique. The print is employed within a grid and repeated symmetrically creating a web-like design or a central jaal. Apart from this jaal, border designs are also employed in this hand done printing technique.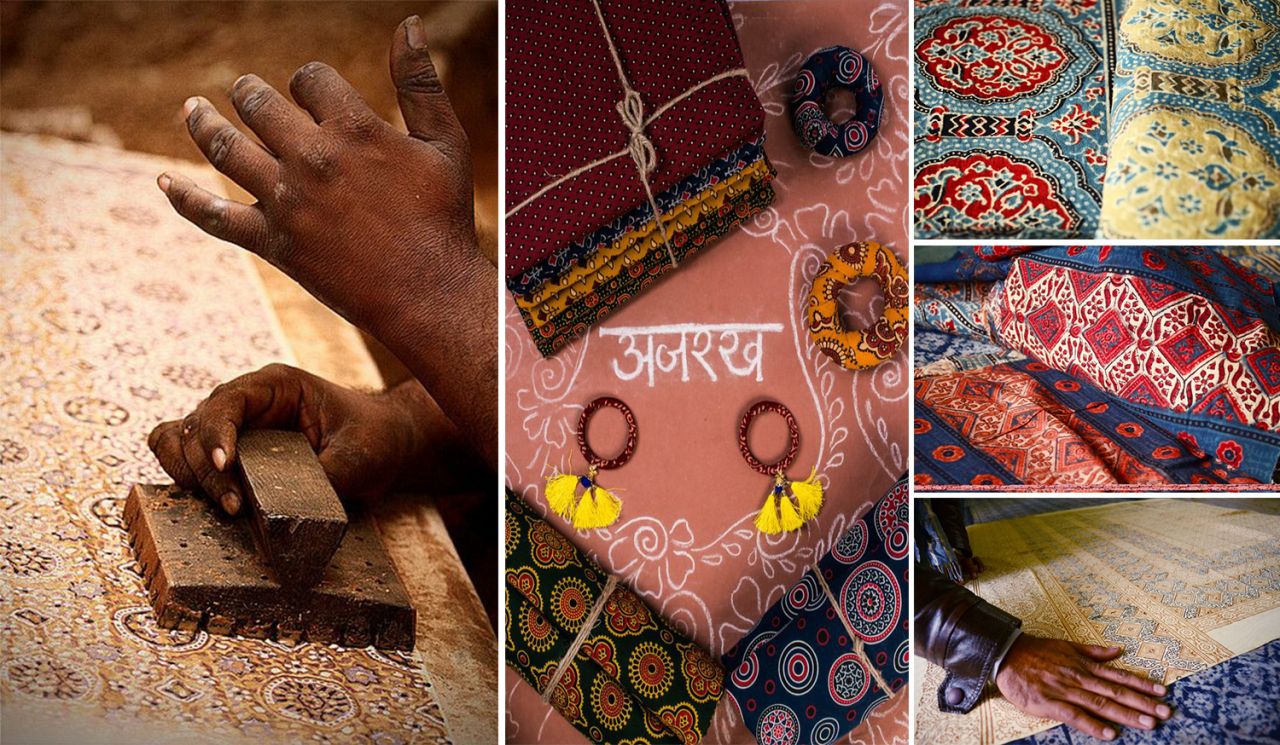 Picture Credits: Zaghami#Flickr | Fabriclore | Dsource.in
#Style7

Varak Gold & Silver Leaf Printing - A Rare Royalty
The quintessential and rich times of our country can be traced through Varak printing style. A traditional form of printing, also known as 'Chandi Ki Chhapai' in rural India, this is a delicate way of embellishing clothes or fabrics that uses varaks made by flattening gold or silver into a thin paper like consistency. Today Varak work is mostly seen on rich Chanderi sarees and dupattas created by some of the finest craftsmen in India.

Picture Credits: Thevintageprints.wordpress | artsandculture.google | artsandculture.google
CURRENT SCENARIO & IMPLEMENTATION
Passed down across generations of artisan communities, handloom industry, today, is struggling for survival, competing against the cheap, rapidly produced products of the modern age. This is where designers & art lovers have stepped in to help these artisans claim their rightful share of the global market & revive the old Indian culture in its true colours. Here are the reasons behind rising popularity of the handloom industry,
Organic Living - A Lifestyle
Going organic and making healthy and environment-friendly choices are few of thecountless trends that are becoming popular. People are making these conscious choices, not just because it's trendy but it has become more of a lifestyle. Good for both the body and the conscience, organic lifestyle actually helps to lessen toxins present in the environment and reduce carbon footprint in the process. Be it clothing or home furnishings, everyone's going organic! Based on practices from ancient era, handloom industry in India still uses organic dyes & natural printing techniques and thus is safe for the environment & preferred by all.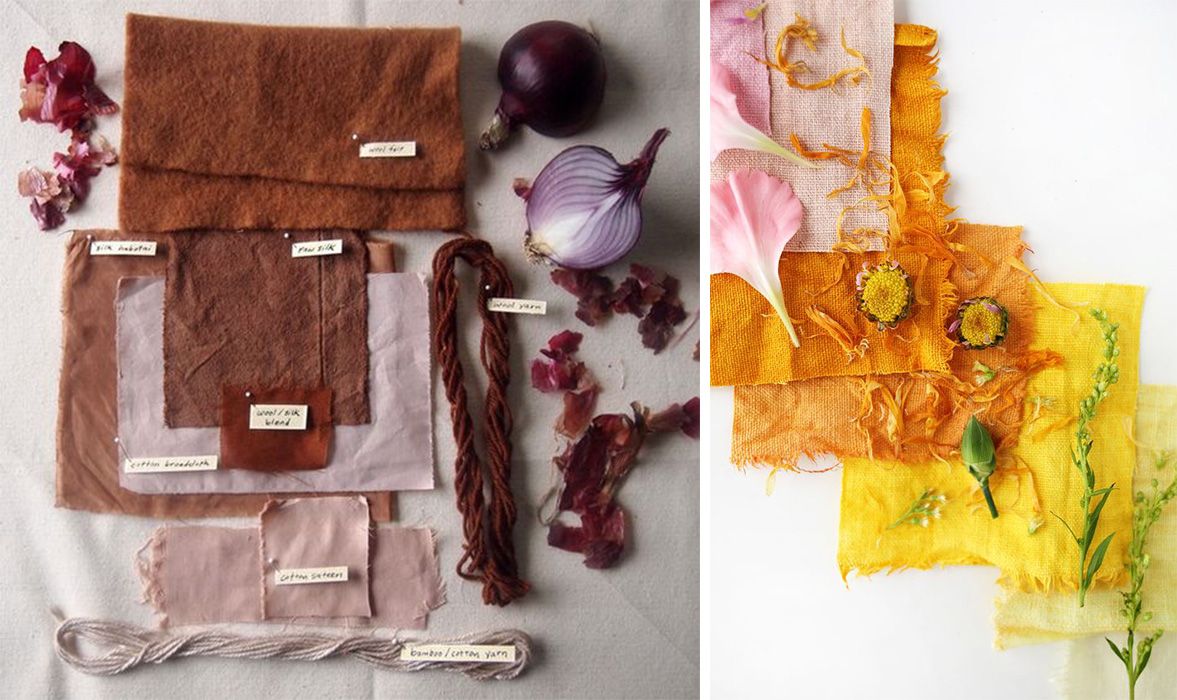 Picture Credits : Folkfibers | abeautifulmess
On the Ramps
While trends in fashion from the western world are coming closer to India, many of our designers are still stuck to their roots and draw inspiration from our native textile heritage, working with artisans, craftsmen and karigars. Renowned designers like Ritu Kumar, Anita Dongre, Rahul Mishra, Anamika Khanna work with artisans and traditional craftsmen not just to make the label's clothes look better, but also to encourage entrepreneurship and the continuation of the crafts by the next generation of the communities who have become known for these crafts. Moreover, such design efforts bring the long lost crafts back in the game and on top of the fashion ladder!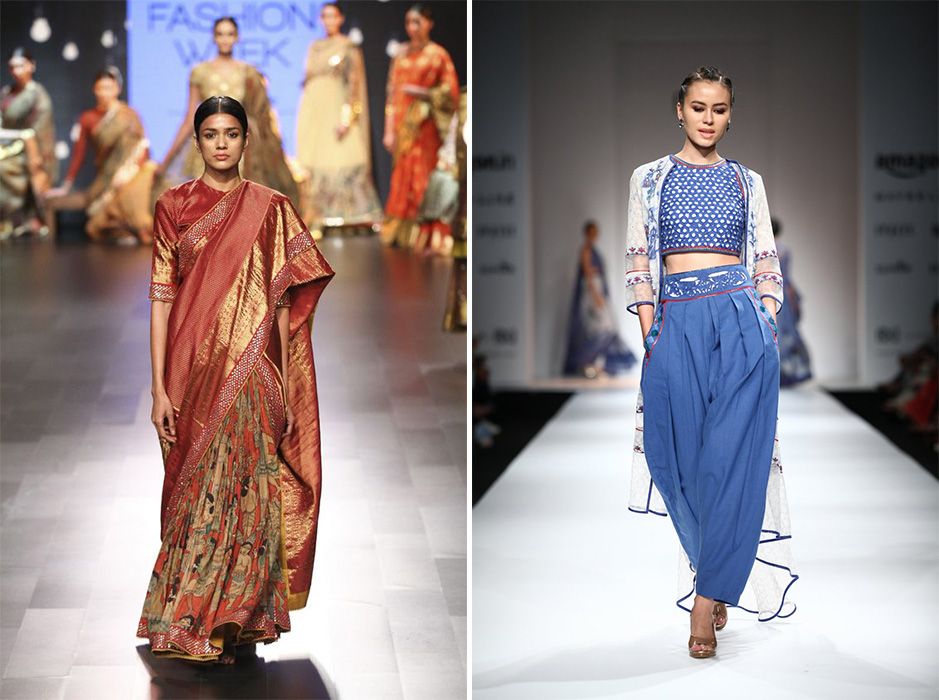 Picture Credits: Gaurang Shah's Autumn/Winter 2017 Lakme Fashion Week collection with Ajanta Ellora paintings in kalamkari styles. | Poonam Dubey's Spring Summer 2016 Amazon India Fashion Week collection showcasing hand block printing.
Showstoppers in Home
Just like songs, actors and characters, Indian prints, too, are evergreen! They don't just look good on the runway; but also add a touch of charm to interiors. Furnishings and striking furniture in these ethnic prints can bring out the essence of any home - warmth, colour, tradition and a welcoming vibe. These unique prints are increasingly becoming first choices for interior designers. The beautiful patterns in techniques like Ikat, Kalamkari & Batik, create visual intrigue and add an interesting twist to simple interiors - a look that you too can achieve on your walls, pillowcases, bed linen, tapestry, upholstery and so on. So, if you love going organic, then this is something you should definitely try!

Picture Credits: Wisteria | Potterybarn
Soaking in the ethos & practices that make India, all of us, at the designing end of the circle are trying our best to work with the artisans, to understand their lives, their aspirations and revive what gives them pride - their handicrafts! So how do you want to contribute?