Tale of a Charming Work Space
Posted on August 14th, 2020 02:35 PM
Working from home is progressively the economic reality around the world. The idea of traditional office day evolves into the concept of a home office space. But making the move from office to home, both practicable and motivating demands a beautiful, bespoke workspace that lets you reach your style statement and also offers comfort.
With this blog, we bring to you some great ideas to create a charming work area in your home. The aesthetics of your beliefs, and inspiration to evoke creativity, comfort to provide productivity – a space that is tailored to your thoughts and needs.
Designate a Work Space
Even still your morning shuttle is now simply down the stairs or the next room, making a designated workplace in your home will generate the same feeling of getting into an office work mode. Having a study or an extra room is idyllic; your office is already awaiting you – all it needs is a touch of your personal style. In case you have a lot of open space, consider a room-divider; it will add a design element to your home's interior theme and at the same time help in creating a designated workspace for you. And even with space limitations – a desk, a chair, and a little creativity will be more than enough.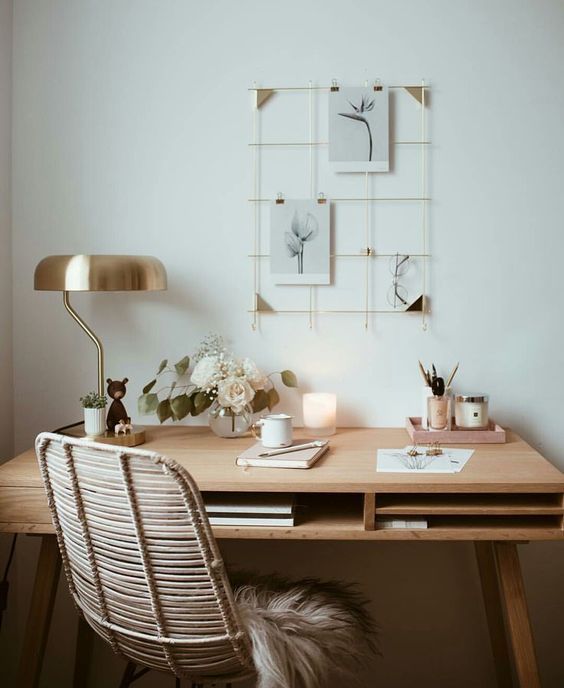 Image Credits: Pinterest
Add Character to your Home Office

One of the advantages of a home office space is that you can inject as much personality and style to it as you would to the rest of your home. Start with the essentials. Choose a work desk that suits your theme, scheme, and professional requirements.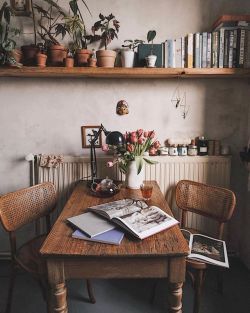 Image Credits: Pinterest
What about a classic design for a desk, or maybe a mid-century inspired one with a simple and clean-lined silhouette? Or even a boho space with colored walls and colorful details. Where would you like to spend your working hours? You just have to choose!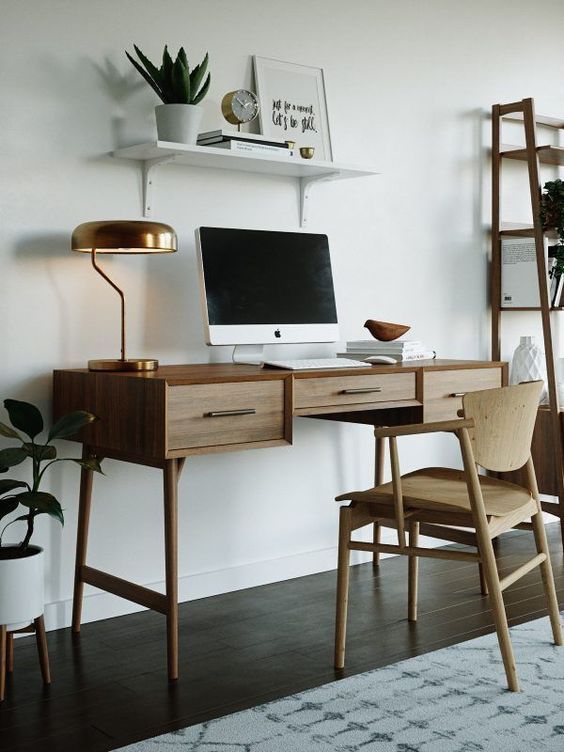 Image Credits: Pinterest
Layering styles and eras give rooms a richer look. Choose a work desk that doubles as a vanity or a console. Decorate with elements that blend well with your personal style and ones that provoke your imagination.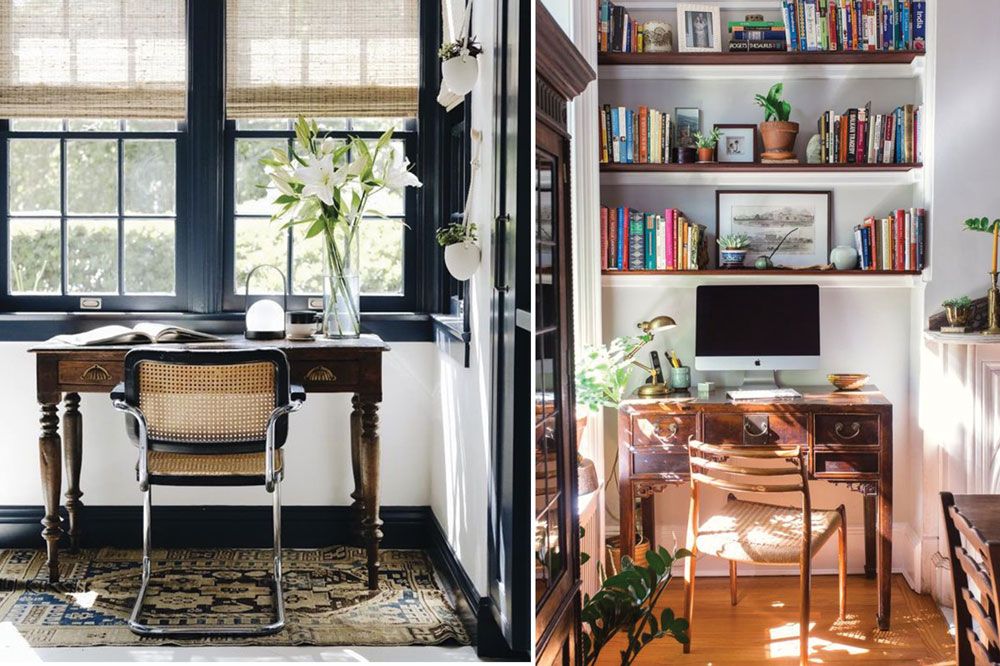 Image Credits: Pinterest | Pinterest
Visually interesting spaces kindle creativity. Instead of opting for blank walls try to incorporate some color, whether in the furniture you choose or by adding some natural greens. Feng Shui suggests that warm tones are the best for creativity and cool ones for more logic-based work.
Image Credits: Pinterest
Anywhere you choose, your chair should ideally offer strong lower back support and allow your feet to sit firm and level on the floor. Prefer a high back, as it will naturally make you sit up straighter.
Image Credits: Pinterest
Natural light is proven to boost productivity, mood, and reduces the chances of fatigue that can occur due to the screen time per day. Choose a spot that is close to a window – fresh air is a blessing always. If you're using table lamps, try and choose a lampshade that roughly aligns with the top of your screen. Doing so will ensure that you'll get maximum light and minimum glare.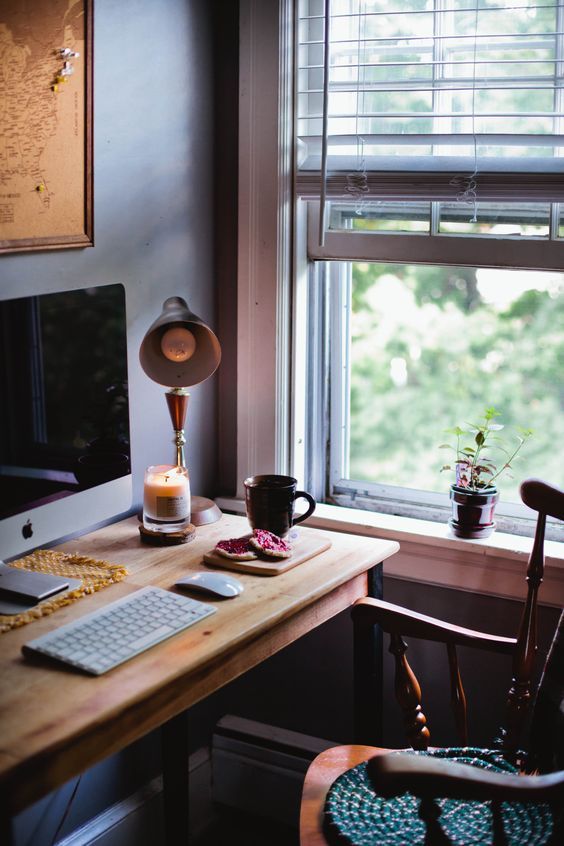 Image Credits: Pinterest
Finish the look by adding a muted toned pinboard to your workspace, so that anything you add to it will stand out. Here you can pin your to-do lists, important notes, quotes and anything else you will like and need to view on a daily basis.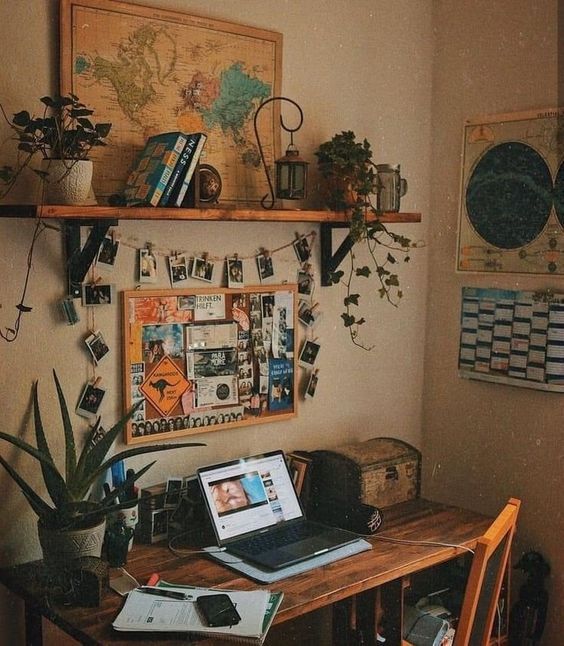 Image Credits: Pinterest
Now that you know what your home office needs, you can start designing and furnishing your space. Shop Gulmohar Lane to discover desks, chairs, décor, and more, and create your perfectly charming home office.

P.S. And now and then, don't forget to take a break, to pause and reflect. Sip a cup of coffee by the fresh window breeze or admire your creatively done up workspace!