The Glamourous Entryway & Hallway
Posted on June 8th, 2019 02:02 PM
This is the one space that we pay the least attention to - while we feel pretty ordinary about it, we should not forget that this is the first space that guests see when they enter your home. Yes, we are talking about your 'Entryway' and your 'Hallway'. Designing a hallway can be a challenge at the best of times but some clever tricks and helpful tips can help you add some stylish touches to this requisite space.
Worth spending the time and effort to ensure your hallway has instant wow factor, here are the elements that will help you achieve just that!
1. BLESSINGS IN DISGUISE
Make an impression on guests with a beautiful entryway or hallway furniture piece that looks like a perfect fit while also functioning as a utility station - a platform where you can place your keys, bags, shoes and more!
A console table can be used to serve the decorative needs wherein photo frames, lamps, flowerpots and other décor accessories can complement the unit. Moreover, based on your needs, you can define the purpose of a console table. From keeping the console table to minimal use or using it as a storage solution for essentials you need when leaving home, a console can be customised to serve you needs, just the way you want.
A bench in a hallway is nice to have for putting on and taking off your shoes. It is a focal point that is also practical. Be it a tufted built-in, mid-century stunner or an antique pass down, a bench can also store your nitty gritties, which is why it has been a long preferred staple of choice.

Image Credits: Instagram@Klintdrup Poulsen | Instagram@Public Three|Eleven | briahammelinteriors | Bouclair
2. LARGER THAN LIFE ELEMENTS
Mirrors are perfect for entryways because they help brighten things up by reflecting light and create an illusion of a bigger space than it actually is. If you're lucky enough to have some windows that shine a good amount of light into your entryway, there is no better way to take advantage of that than by going big with a floor-length mirror. Hanging a decorative mirror on the wall just above your console or bench is another great choice that is easy to pull off. Even for homes that have a stairway front and center when you first walk in, setting up a mirror in that little space underneath the stairs could make more sense than placing it on one of the walls beside the front door.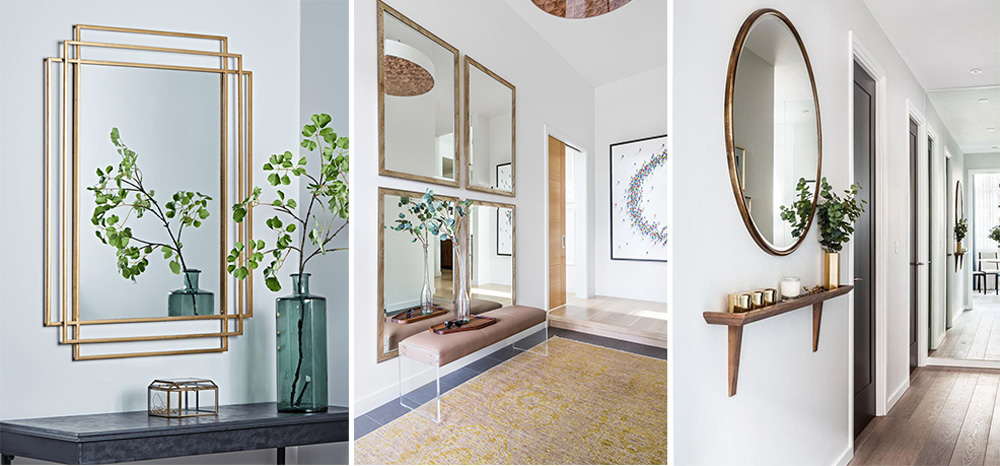 Image Credits: coxandcox.co.uk | Nylafreedesigns | Gordondufflinton
3. STUPENDOUS ICE-BREAKERS
Home décor accessories are an epitome of chic and a designer's favourite; they not only make for great conversation starters but they also set a tone for your entire home. Vases, candle holders, family photographs, table lamps can make your entryway go from glum to glam in no time!
In case you are wondering what will happen to the keys and the shoes if everything is filled up with accessories, it's easy. Get some storage. Baskets under your table can stash shoes out of sight and a small tray can corral your keys and change. It's all about having a place to put things!
A bunch of blooms on the table with your favourite ceramic/ glass vase or a large houseplant in an empty corner will breathe life into your hallway. Plus houseplants give us a reason to come home, since they can't water themselves.
Books and personal photographs also come handy and can say a lot about who you are. Whether they're interior decorating books or biographies or science fiction novels, include a few on your entryway table to add some of your personality. Speaking of personality, it's always nice to see who lives in a home. Hang some family photos or put your favourite framed picture on the table to greet you with a smile every time you walk in the door. Even a table lamp or wall scones (above or beside your wall art) will welcome you and your guests with a warm glow that also have the ability to lift up your spirits.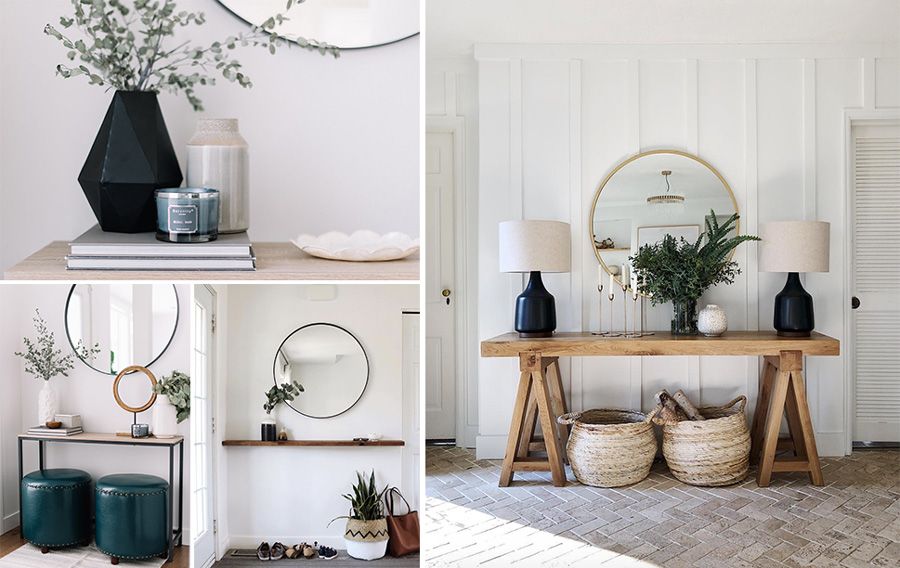 Image Credits: 204park | Instagram@Anissa Zajac | tlcinteriors.com.au

4. COLOUR PLAY
Just because it's small, doesn't mean it can't be striking. The noteworthy thing about your hallway colour palette is that it doesn't have to be exactly the same as your living room. Like powder rooms, guests expect the hallway to be a little more over-the-top when it comes to colour and design. Your colour palette should include a shade or two from your living room to tie everything together, but it's okay to bring in additional colours that you love. If you do stick with living room colours, go a shade or two lighter or darker to get a more customised look (that also looks well thought of).
Complete your entryway colour palette with a statement rug, which most people forget or buy without putting much thought into. A rug can be the right solution for blending style and function in an active home - it should be functional, so that you aren't tracking dirt into your home, but it should also be gorgeous.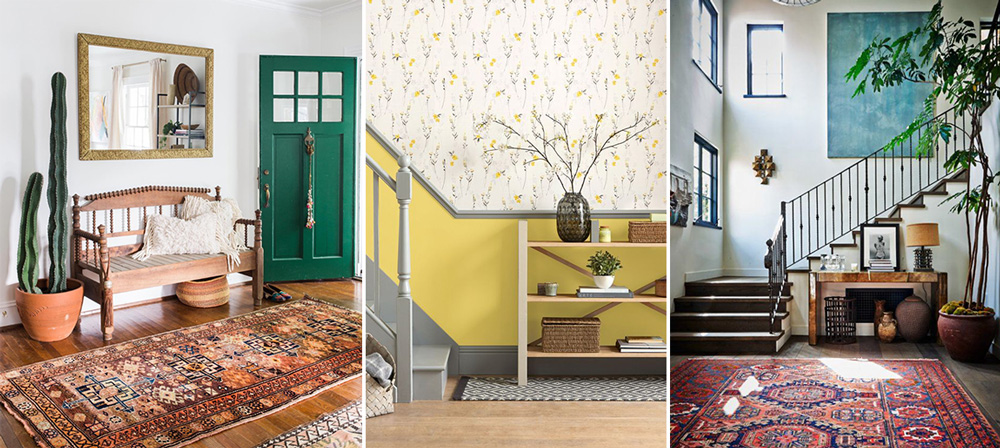 Image Credits: Instagram@Carley Page Summers | next.co.uk | alexanderdb

5. PATTERNS AFFAIRS
For an entry that makes people go "wow," cover the walls with bold wallpaper or go for patterns and textures in paintings and wall art. Keep the rest of the decor simple, like a small table and one or two accessories, so it doesn't feel too busy. From florals to geometrics, textured prints and more, wallpaper provides a big, artistic
impact, especially in a small space. While a printed wallpaper, featuring greenery and nature, helps the foyer flow into the surrounding landscape, an abstract one will add a burst of colours in an artsy style. Even if wallpaper looks too overwhelming for your style, wall arts and paintings are always an option. You can either go minimal or go exuberant, but bursts of pattern on the entryway wall feel rich and elegant.

Image Credits: styleathome | domino | chasingpaper | laurelberninteriors
Hallways serve as a crucial welcome point to your home. With some thought and careful design, a colourful area can invite the guests in and add style to your home as a whole because big design statements begin at the front door! Gulmohar Lane's Consoles, Benches and Home Accessories will inspire your decor looks. Explore Now! Happy Decorating.