Unclutter | Display | Add a Touch of Handmade with Handwoven Baskets, Trays and More
Posted on November 23rd, 2019 07:23 PM
All they cared to do from morning till noon was to sit in the sun and collect and all that they wished to do from noon till night was to enjoy in the shade and weave. Once considered a forest leftover product, rattan, seagrass and other weaving fibers now add to the royal quotient of our luxury and sustainable lifestyle.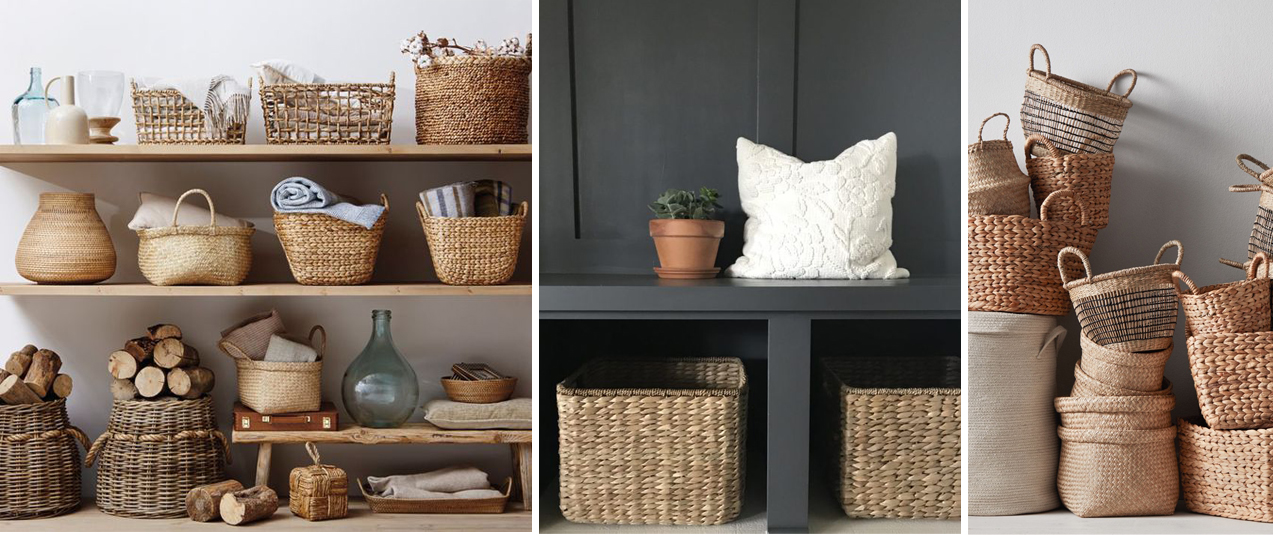 Image Credits: Pinterest | Pinterest | Pinterest
Traditionally handwoven goods in South East Asian were included for the offerings made to the Gods, and hence the practice of weaving is taught at a young age, resulting in the precision and creativity of the woven crafts. For centuries, indigenous peoples managed the land through basket weaving. The items made are bags, hats, baskets, sandals and a number of other items that are perfect for the home and kitchen. These items are still utilized in day to day life and are rapidly making a trendy statement in modern urban homes too.

Image Credits: Tripadvisor
The journey of these woven stories are beautiful reminders for us to acknowledge the heritage of this craft, its versatile nature and the people behind it while celebrating the humanness they bring to the products! Keeping its ancient roots intact, the craft of Basketry has grown much beyond classic weaves, single tone and storage utility. They are bolder, they are experimentative, they are multipurpose but all unique in their own sense…
You might think how? Here is a brief listing.
MODERN DAY STORY
#1 Storage You Won't Hide
The craft of basketry is the perfect solution to so many "what should I put here?" & "how do I organize this?" debates. We can use them all over our houses but there are a few ideas that we recommend to use baskets for storage and décor. A stylish solution to store your extra cushions, throws and favorite reads in living room while cleverly utilizing unattended corner spaces, patterned and woven baskets can also be used in bedrooms without exception. Not only this, you can also ditch the obvious ceramic pots and replace those with floor baskets to store & display your house plants and to gather your guest's umbrellas at the entryway while the table top baskets can be used glorify your fresh blooms.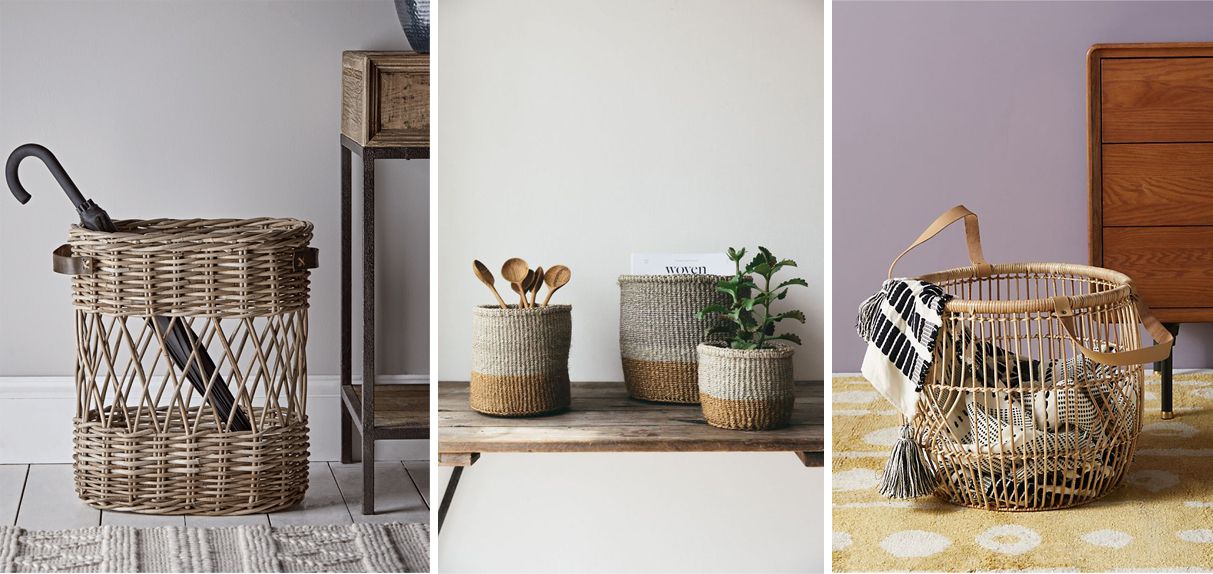 Image Credits: Anthropologie | Coxandcox | Thefuturekept
With a genius addition of a weaved lid, a basket can also become a keep safe for your small-scale clutter like bills, papers, jewellery, dressing table essentials, makeup, keys etc. It can also be used to hold your trash and dirty laundry without compromising on your interior style and ambience.

Image Credits: Pinterest | thriftyandchic | Pinterest
#2 Utility Marvel

Organizing kitchen counters or console table tops looks like a lot of work but with low, wide baskets you can keep all of those random spices, cooking oils, house keys, candles, pens and other knick-knacks in order without hiding them from view and still easily accessible. These shallow designs also work wonderfully as serving trays while being easy on your pocket and high on style quotient.

Image Credits: mostlovelythings | Pinterest
Eye-catchy even on your dining tables, basket-like woven coasters and table mats can lend a splendid base to perch glassfuls of refreshments, bowlfuls of scrumptiousness or even some mini vases while protecting your precious furniture from pesky water drips and stains and adding a hint of earthy at the same time.

Image Credits: thewhitecompany | thewhitecompany | Pinterest
#3 Lighting Sensations
Storage and utility might be your favourite ideas to use baskets but illuminating a space with basket lighting is totally a game changer, something that will make your home shine and stand apart from the rest. It's like flipping over your favourite basket and turning it into a pendant light, which can be equal parts casual elegant and coastal chic. Just thread a cable through the basket, add a bulb, hang from the ceiling/ lamp stand and plug it in.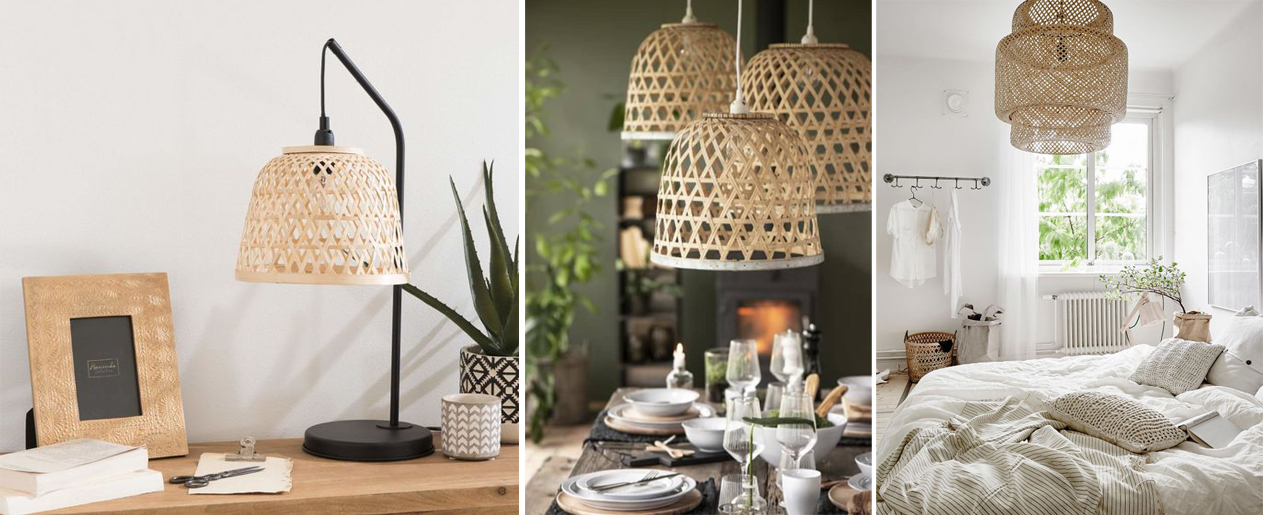 Image Credits: maisonsdumonde | bloglovin | trouva
You can even use this trick for your table tops or small spaces as table lamp stand designs and also by using a candle light or a candle and flipping a loosely woven small cylindrical basket over it. The extravagant patterns will leave your mesmerized and dreamy…

Image Credits: Pinterest | dearkeaton | homelavafr
#4 Visual Spectacle
Breaking the myth of 'baskets have to be used for storage', here is how they can create a visual spectacle in your hallway, living room and even bedroom. Incorporating a more global style décor into your home, assorted African baskets or colour induced baskets make for a great gallery wall display right above the sofa or bed and in the connecting hallway walls. They can narrate a story or can add a mood ambience to your spaces all the while being distinctive and attention grabbing.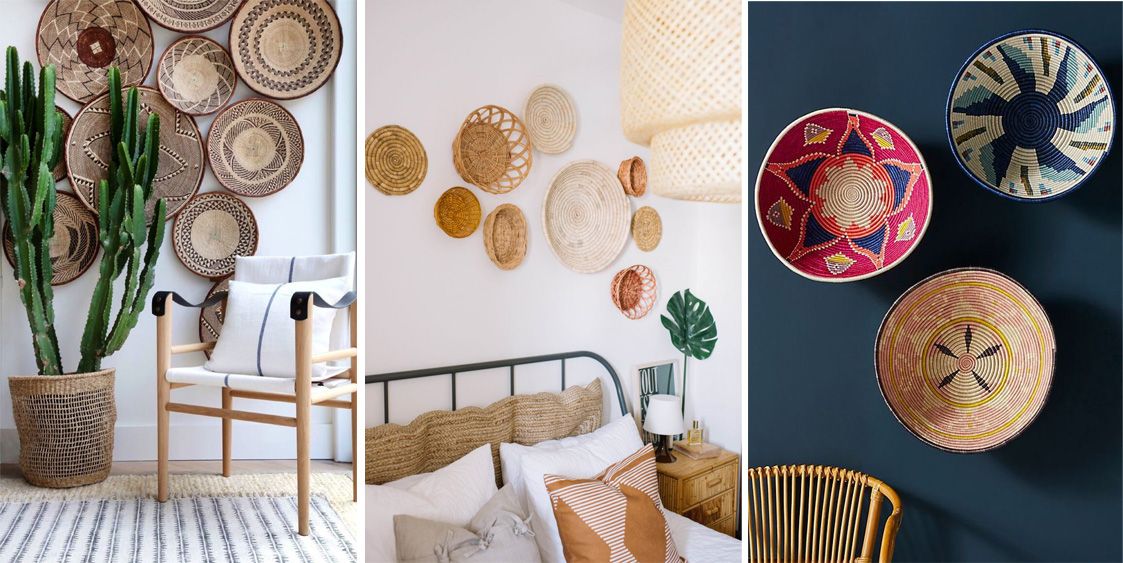 Image Credits: etsy | collectivegen | anthropologie
Now that we have covered ceilings, walls, furniture then why not think about something for the floor too? A tightly woven and intricately patterned colour block rug or floor mats will steal the show with their delicate beauty and sensational style. And the best part, they come in all shapes and sizes, be it square, circle, rectangle or even hexagonal.

Image Credits: rugtastic | paynesgray
Trending as one of the most favorable décor choices, basketry for modern home has to do more than just utility and attractiveness, it is about a healthier and supportive environment, a vigilant consumer and a tender human being, a futurist and an art connoisseur.
So, its time to think handwoven utility and while at it why not explore Gulmohar Lane's brand new additions? Get inspired and utilize these tips to create storage and allure and by going natural in your décor too. They will be live on our website soon, so stay tuned!