Versatility Redefined | CANE CHAIRS
Posted on January 26th, 2020 05:10 AM
This timeless material is inspiring a new generation of ideas and young ambitious designers alike. An old-world species of climbing palm is woven to create intricate patterns and functionality loaded furniture designs for everyday use. And without a doubt, the popularity of these natural materials like cane, wicker, raffia, seagrass reflects our desire for all things handmade!
Still, a trend may feel meaningless without putting it into practical use. Sooo, we fashioned a space that gives away vibes of no less than extraordinary with our newly launched Andaman Cane Chairs! And here's what we did with the material of the moment……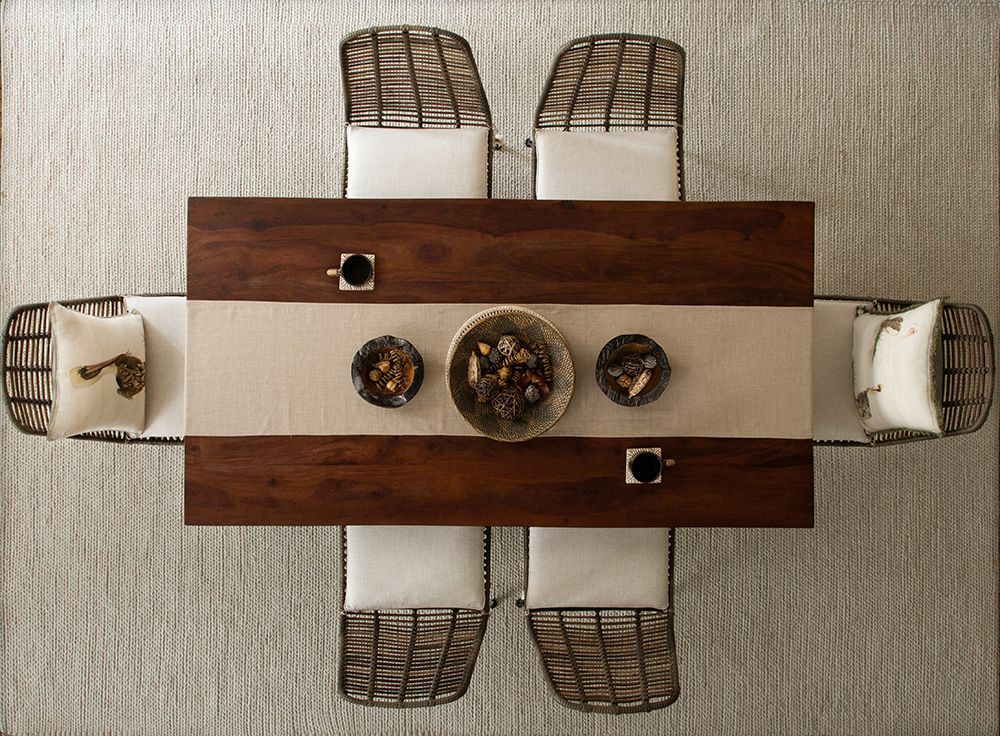 Image Credits: Gulmohar Lane
AN INDOOR TREAT OF FINE EVERYTHING
Many great memories are made around the dining room table. And they're made even better if your dining room design is inviting, relaxed, and functional. So, with that in mind, we have helped put its best foot forward – both for everyday dining and for entertaining guests.
HERE THEY ARE
Dining room size and styles may vary but the furniture is pretty standard. Here's what we choose to create an airy dining space that invites good vibes only!
Our Andaman Cane Dining Chair: The star of the show
Here is unraveling the warmth of cane in a never-seen-before avatar. An eye-catchy compliment to the dining ensemble, this dining chair will allow you to enjoy a meal in a contemporary style while fortifying coastal aesthetics. The added seat tie cushion and the beautifully droopy tassels will have you feeling plush and comfy while adding another element of versatility to the entire ensemble. Resting on metal legs embellish your interior spaces with a rustic touch.
Cane Chairs are trending for their airy-style, light-weightiness and needless to say its organic appeal.

Image Credits: Gulmohar Lane
KKEEP EXPLORING AND FIND THE FINAL LOOK UNRAVEL!
Our Portland Dining Table: For Contemporary Homes
Characterized by simplicity, democratic design and striking metal base, give your dining space a mid-century modern twist. This clean-lined ensemble creates an inviting dining room for friends and family to gather around.
We choose this table to for its straight-lines and for the contemporary feels it offers!

Image Credits: Gulmohar Lane
Our Lake Grass Bell Pendant Lamp with Tassel: A Classic Staple of charm
This handwoven oversized pendant lamp will create a rustic mojo in your dining spaces. It is a classic staple for many Balinese bars and cafes, and this lighting option is trending for its timeless look which adds a pastoral character to spaces!
We choose these lamps to hang beautifully above the dining space as it compliments our Andaman Dining Chairs and ties the whole look in tandem of prettily handwoven!

Image Credits: Gulmohar Lane
Drumroll Please!
Here is the big grasp for the 'look of the moment' our timeless, classic and alluring:
DINING LOOK with the material of the moment: CANE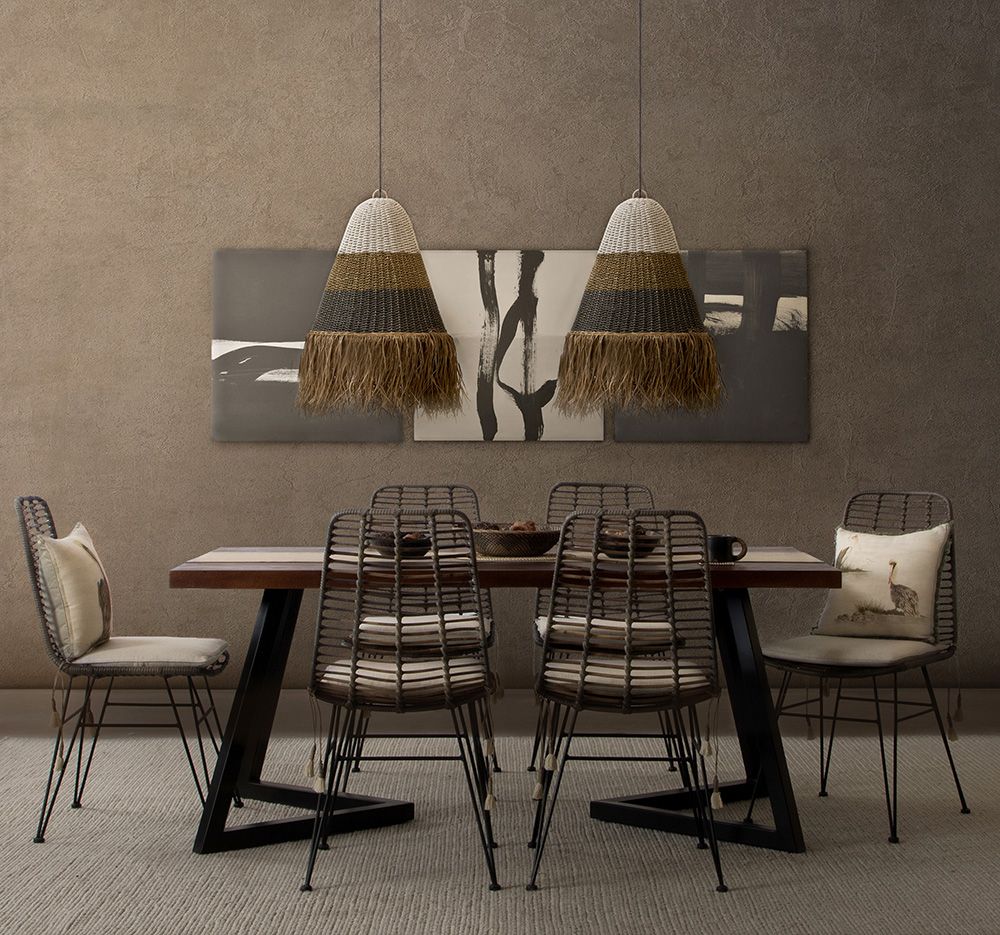 Image Credits: Gulmohar Lane
Giving away the feels of something whimsical! With this look, bring a wave of reinvigorated praise for your space.
And hence we acclaim that cane is no longer an outdoor only option! Find our Andaman Cane Chairs on gulmoharlane.com and see how it gleams an organic, rustic and natural aura in to your indoor spaces!