An Expert Couch Guide
Posted on May 23rd, 2019 04:02 PM
Furniture takes up the majority of our interior spaces and helps make our home feel lived in, welcoming and complete. And one furniture piece that we cannot do without is definitely the 'couch'. In a home, it is like the potato of a meal. This live load element becomes a necessity and rather the most crucial part of designing an interior space. The evolution of a couch from being a basic utility to becoming a luxury symbol, with the help of its beautiful designs, is taking a leap in today's world. And before you get on to styling your home, this guide will help you make the right decision, in terms of size, style and utility.
So let's get to it!
An Expert Couch Guide
UTILITY & SIZE GUIDE

Options based on the Size of your Home and your Requirements
1. THE GRAND SECTIONALS
This sprawling seating is long on style and a must have for gatherings and family time! There's nothing worse than hosting a movie night or a cocktail without enough seating - one guest ends up in a dining chair at the edge of the fray while another is relegated to the floor. Thankfully, this L-shaped and U-shaped design wonder is here, which can be configured as big or small, based on the available space, ensuring there is room for everyone - working as well in a small study as they do in a spacious living room. And while past options may have been dowdy or downright unwieldy, today's sectionals are much more sophisticated, ranging from streamlined versions upholstered in velvet to slipcovered linen styles.
Available in up to 12 seater sizes, this sofa style just leans more to lounging than perching!
Inspired by modern sensibilities and today's needs, we too at Gulmohar Lane offer a distinctive range of sectional designs (designed with separate components that can be customized by you) that are sure to add comfort and a sense of chic to your living room seating.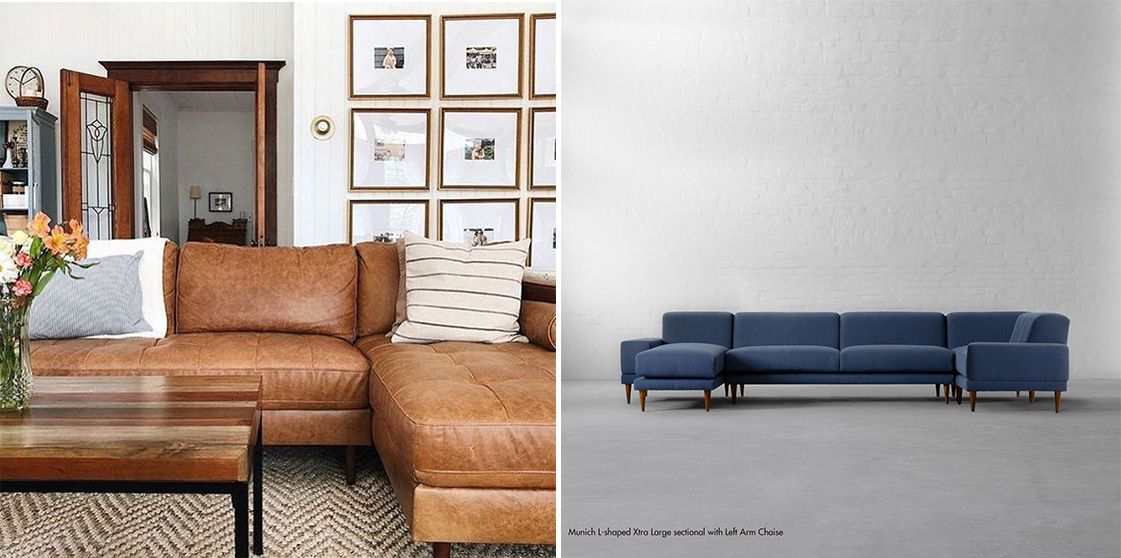 Image Credits: structube | Gulmohar Lane | Article
Image Credits: Structube | Gulmohar Lane | Article
2. THE MULTI-TASKING SOFA CUM BEDS
A blessing in disguise for urban dwellers and young professionals living in compact homes in cities, Sofa Cum Bed lends 24 hour a day comfort. On weekdays when there is work to finish but you need a comfortable space to unwind too, on weekends when family and friends gather for some chit-chat, games and sleepover, this couch design is the perfect location. Ranging from pull out bed (the sofa back remains upright while the sleeping surface folds under the belly of the sofa from where it is stored and pulled out) to convertible bed (doesn't have a mattress) and futon bed (the back of the sofa folds or releases downward to create a large, flat, cushioned sleeping surface) choose a style that fits you.
Mostly available in two standard sizes i.e. king and queen (bed sizes), it's like getting two at the price of one!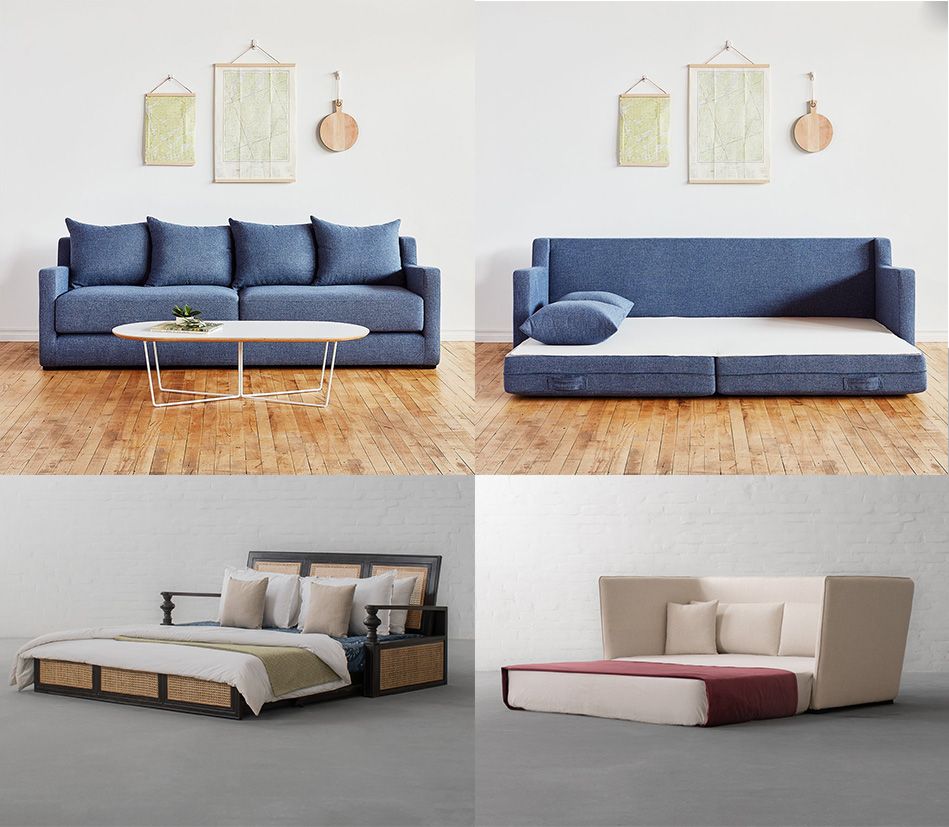 Image Credits: modernmarketlifestyle | Gulmohar Lane
3. THE LOUNGING DAY BEDS
Just because you've got a limited space doesn't mean the room has limited potential. Daybeds are the ultimate versatile seating and can be used for anything from lounging to studying to sleeping. A cross between a chaise, a sofa and a bed, this multipurpose furnishing is certainly functional, but is also a valuable decorative element with various upholstery options. The daybed looks similar to a chaise lounge except the daybed has ends or backs on each side. This style is designed to fit against a wall (just like a sofa) and will be the largest piece in your room. Ideally, the daybed should span no more than 1/3 to 1/2 of the length of the wall behind it.
As deep as a single bed, use daybeds as the perfect set up for afternoon tea and lengthy conversations or catnaps.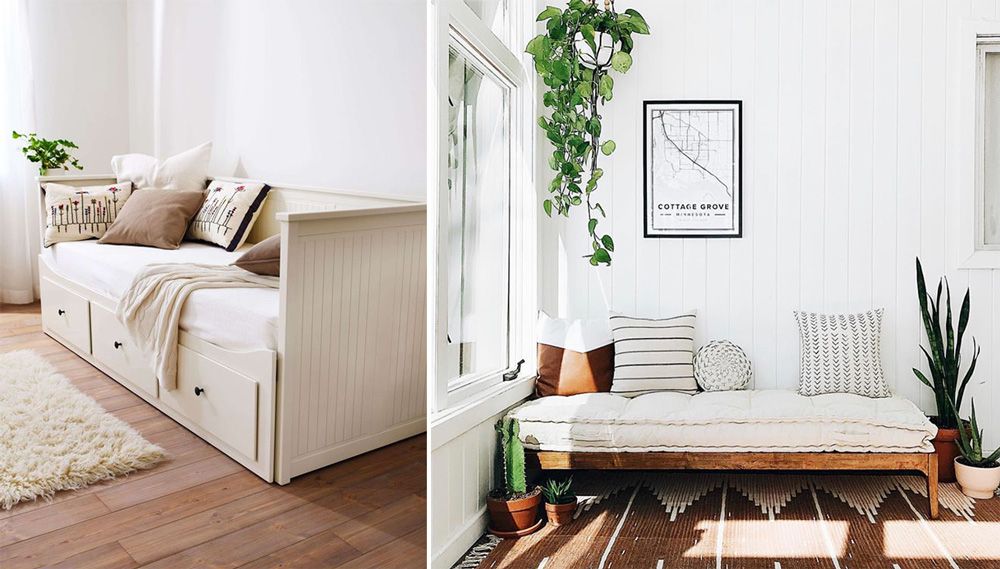 Image Credits: IKEA | Instagram#Angela Mueller
4. THE ELONGATED CHAISE LOUNGE

The chaise lounge is a diva. Oozing with attitude and often flaunting feminine curves, the dramatic piece inevitably becomes the star of the show, even when sitting in a corner. Living rooms can wind up all rectangles and straight lines, so it's nice when a piece of furniture comes along that breaks up all the right angles and adds a delicious curve into the mix. Moreover, a chaise lounge can help a small room feel spacious, as they are often backless - so when floating in the middle of the room, it doesn't take up much visual weight. And since they are low to the ground, they don't interrupt sight lines and you can use them in front of focal points like fireplace, window or in front of an archway.
Typically 60 inches or more in length, the chaise lounge is a seat that needs its space.

Image Credits: simplifiedbee | briahammelinteriors | Gulmohar Lane
5. THE COMPACT LOVESEAT/ SETTEE
When the space is cramped, let Loveseat help! A couch that has a smaller footprint but is big in style and makes some visual noise with it's presence, loveseat gives you the opportunity to catch the wave of a hot furnishing trend, mixing your pieces, rather than matching them. Loveseats likely got their start back in the late 1700s when wide upholstered chairs made an appearance in the powder and dressing rooms. They rose in popularity gradually, thanks to the very full skirts on dresses in those days. After that, even though the dresses shrank in width, the loveseats grew in popularity as a sofa for two.
Usually designed in a 1.5 to 2 seater couch size, loveseat or settee make for nice foyer pieces with an old world charm.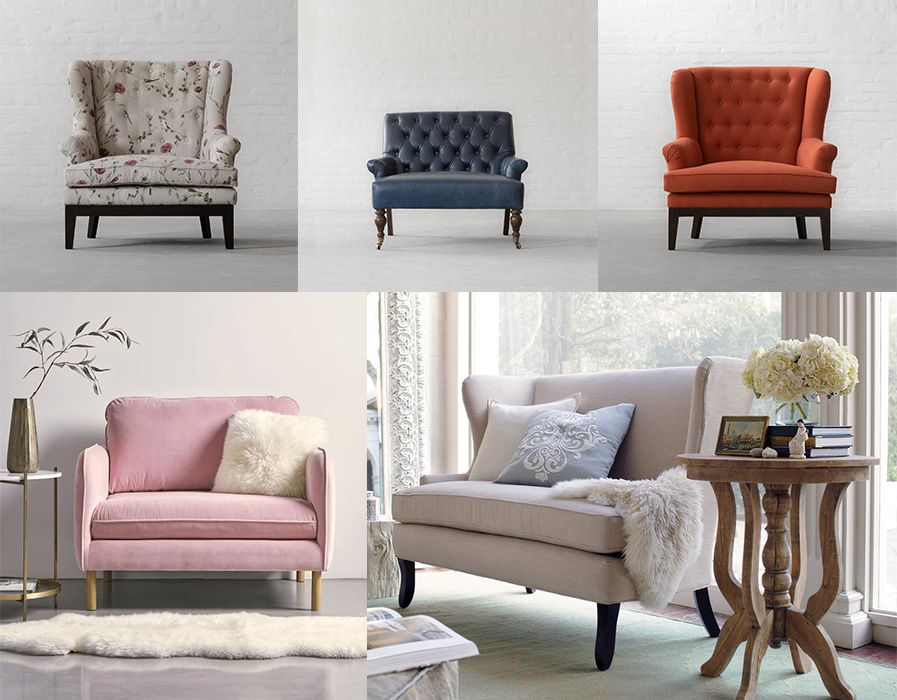 Image Credits: Gulmohar Lane | coxandcox | birchlane
STYLE GUIDE
Timeless and Popular Sofa styles, Loved by all
1. THE CLASSIC CHESTERFIELD SOFA
Contemporary sofas may be incredibly beautiful, however, a Chesterfield Sofa conquers every heart. While the exact origin of the chesterfield sofa is lost in the mists of time, there is no doubt that this design icon has evolved over the centuries and has had many incarnations. Although there is no official definition of what constitutes a chesterfield, it's generally accepted to be a deep-buttoned sofa with scroll arms and back of the same height. Traditionally made of leather, modern-day chesterfields can be found in an array of different fabrics, including velvet and linen, with many colours and prints to choose from.
Briefly, a classic Chesterfield can add sophistication wrapped with opulence and old-world charm.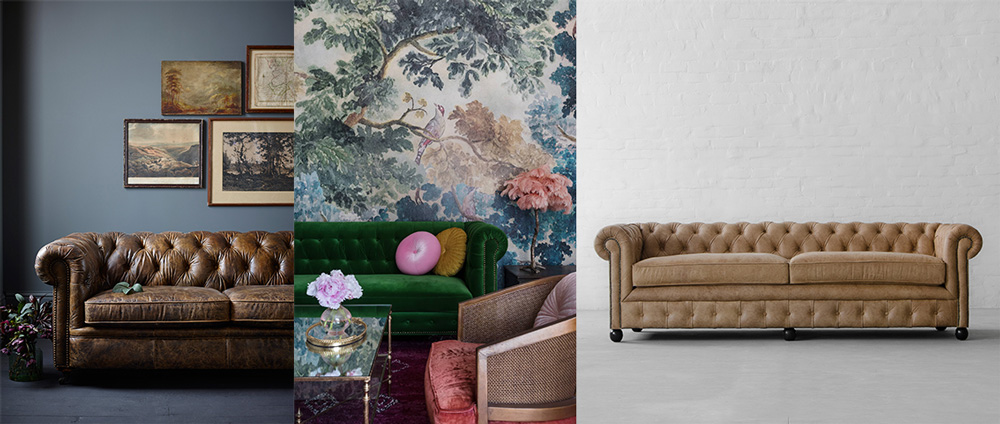 Image Credits: alexanderandjamessofas | apartmenttherapy | Gulmohar Lane

2. THE MID-CENTURY TUXEDO SOFA
Distinguished by its boxy silhouette and decorative tufts, tuxedo sofa has a lot of iterations. With arms and back roughly the same height and the legs either upholstered or exposed, this couch design is clean-lined and geometric. When designing around this couch style, it is recommended to add some circular pieces, such as coffee tables or side tables, to break the square shaped aesthetic and soften the look with curves. Interestingly, the tuxedo sofa isn't that old, first seen in the 1920's in Tuxedo Park, a wealthy New York State enclave.
If you love minimal ornamentation and a clutter free look, opt for a Tuxedo sofa, perfect for adding some mid-century vibes to your abode.

Image Credits: Gulmohar Lane | Gulmohar Lane | Ethanallen
3. THE CONTEMPORARY LAWSON SOFA
Designed for comfort, Lawson sofa's signature design element is its back, composed of pillows separate from the frame. Created for financier Thomas Lawson near the turn of the 20th century, the Lawson sofa has clean lines reflecting his desire for a simpler, more comfortable and more modern construction than the ornate Victorian styles of the time. Its proportions give the design a tailored back about as high above the seat as the seat is deep, with arms much lower than the back. The original Lawson design had 3 attached back pillows over 3 seat cushions (ideal design). Because of the height of its arms, this sofa is one of the most comfortable sofas for napping. (Fun Fact: The biggest difference between English Roll Arm and Lawson is that back cushions of the Lawson are not attached to the frame.)
From contemporary to traditional, this style is suited for all!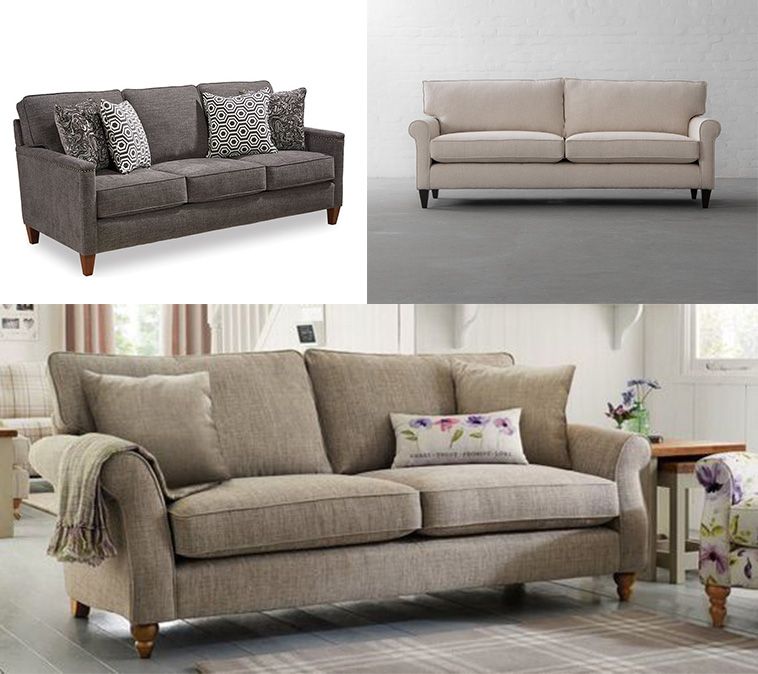 Image Credits: Wayfair | Gulmohar Lane | next.co.uk

4. THE MODERN RECLINER SOFA
The recliner sofa is a fairly new type of couch, but has grown in popularity, as they are great for binge watching and reading. In addition to this, recliners are very comfortable and relaxing pieces of furniture with great health benefits (sitting with your feet above the heart level is great for your health, which is highly on demand these days). While not the best pick for a formal living room, this style is meant for family rooms and media rooms. Opt for recliner sofas in solid neutral colours to effectively camouflage their bulky silhouette.
After a hectic day at work or managing the household chores, a recliner will be your best friend!

Image Credits: schneidermans | westelm

SPECIAL REQUIREMENTS GUIDE
Solutions for a home where kids and pets reside
FOR PET OWNERS & A HOME WITH KIDS
Kids can be messy and carefree, but that is what childhood is all about, right? And why even have pets if they cannot be on the furniture with the rest of the family? So when you are on the hunt for a new couch (for a pet-friendly and kid-friendly home), the biggest consideration should be how well it will hold up to stains & spills and paws, shedding fur & the mud.
Designed for the most active of homes, these pet and kid-friendly solutions don't flinch at the sight of crumbs, furs, spills and stains.
1. Avoid loose weave fabrics like tweed as they can easily snag on claws and unravel over time and can trap hair and dust, which is difficult to clean and maintain.
2. Say no to velvet and silk upholsteries as they attract hair and stains like a magnet.
3. Couches with button tufting can be your biggest nightmares, even if one button goes missing; the entire look of the couch is affected.
4. Opt for tight weave fabrics like cotton in dark colours to avoid stains and hair showing off.
5. Leather is your true saviour - it is durable, it won't snag claws, it wipes clean with a damp cloth and a little wear and tear adds to the distressed aesthetic.
6. Slipcover couches are another design wonder for you, where you can remove and wash the cover when the mess is unbearable.
7. Look for couches with less floor clearance, because you never know what surprise elements your kids are storing beneath your beloved couch.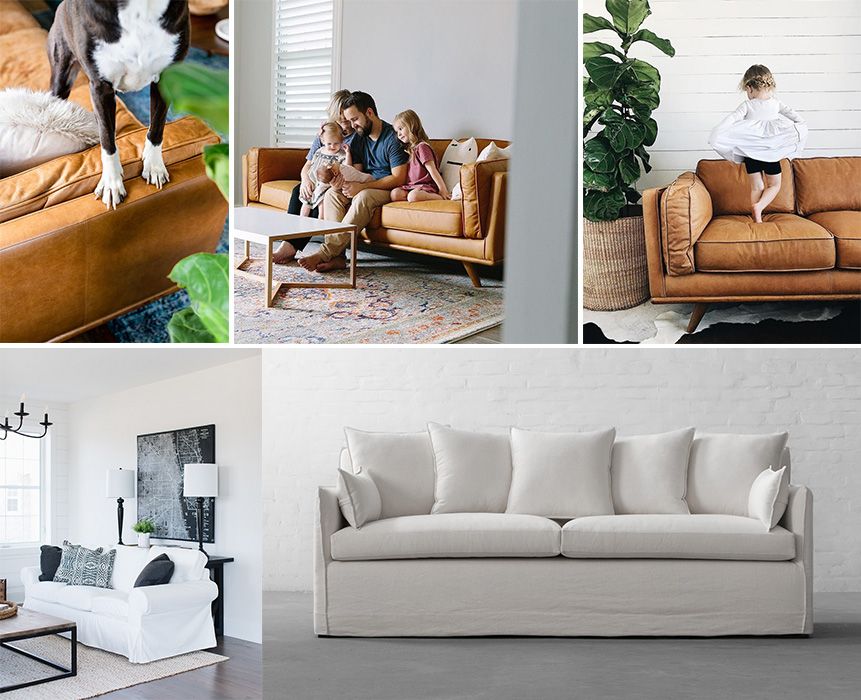 Image Credits: Article | Instagram#Abbie Martinsen | Instagram#Remie Girl | HomeBunch | Gulmohar Lane
COMFORT GUIDE
Relaxed or formal, based on the comfort you are seeking
1. THE SINK-IN COUCHES
After a long day, you just want to sink in and let your stresses float away, especially in the living room, where you spend so much of your time marathoning your favourite shows and chilling with the family. Sink-in couches are perfect when you are seeking such comfort and coziness - you'll never want to get up and nap times will be glorious and dreamy! However, these styles encourage you to slouch, so opt for firmer back cushions to maintain your posture. Kids love softer couches as they have lots of fun bouncing around on them while with pets, softer sofas are more susceptible to wear and tear should your pet like to lie on your sofa a lot. All in all, it all boils down to personal preferences and before you ask, down feather fill or a mix of down feather and polyfiber fill is what you should be looking at to achieve this comfort!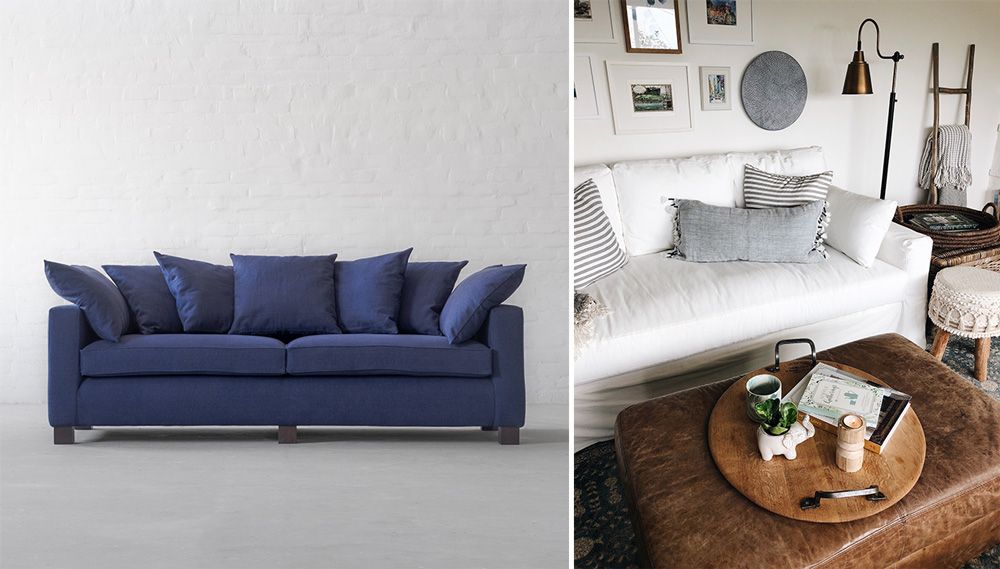 Image Credits: Gulmohar Lane | theinspiredroom
2. THE FIRM COUCHES
If your sofa would be used to host guests often, a firmer couch would definitely be the go-to choice, as it makes sitting upright and chatting easier, thus providing a comfortable environment to make conversations while ensuring long-lasting comfort. Ideal for optimum back support, firm couches are more durable and versatile. However, too firm a sofa can take away the joy of sinking into a comfortable sofa after a long day of work, so ensure that you strike a balance. Adding soft cushions can boost the profile of the sofa, ensuring a good mix of softness and firmness that you can enjoy.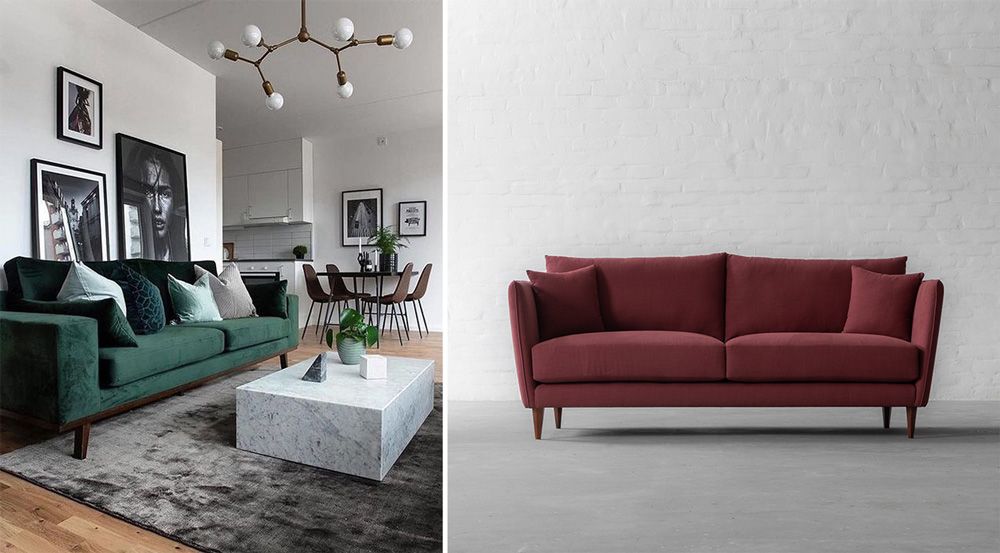 Image Credits: Instagram#MMKINTERIOR | Gulmohar Lane

From on-trend looks to classic schemes, there are a wealth of ideas to steal when it comes to designing with the design staple, the couch! But before making the final choice, consider this checklist, as it will definitely lead you to the perfect and ideal solution.